The third season finale of CW's iZombie changed the game—and basically the entire world. Humans know about zombies now, and (New) Seattle will be the testing grounds for whether the two groups can live—and unlive, I guess—side-by-side. Based on the show's panel at this year's San Diego Comic-Con, odds aren't looking good

When season four begins, New Seattle has cut off from the rest of the country, thanks to a partnership between the government and Fillmore-Graves. It's a new society for humans and zombies to co-exist in (each police officer even gets their own zombie partner!). For zombies, brains are dispensed like medical marijuana, with zombies needing their "Brain Card" in order to get their latest meal. However, that's not the only way they can fill up, because less-than-scrupulous entrepreneur Blaine is also opening up a grave-to-table restaurant called Romero's.
However, much like Zootopia, things in town aren't as perfect as they seem. Rose McIver said Liv is going to have mixed feelings about what direction the city and its zombie inhabitants are going, feeling unsure whether they should've "come out" in the first place. And there's also going to be a human terrorist organization called the "Dead Enders," which creator Rob Thomas said will be trying to prohibit fraternization between humans and zombies.
Despite the problems in the city, Seattle will also have to face conflicts outside the city, too. As the government deliberates whether to blow New Seattle to smithereens, getting rid of any possible zombies outbreak, scores of terminally ill people are trying to get into the city as refugees. Their goal? To be turned into zombies so they don't die. According to Thomas, that's mainly why Chase is making it illegal for zombies to intentionally infect others, which could present a problem—especially for Liv, who ended last season intentionally infecting Ravi to test a possible cure.
G/O Media may get a commission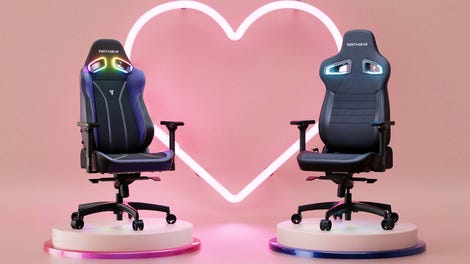 Up to $150 off
Vertagear Gaming Chairs
iZombie is set to return midseason 2018. For anyone wanting a refresher on the series so far, CW made this special sizzle reel for San Diego Comic-Con: