"When gone am I, the last of the Jedi will you be." Yoda's words in Return of the Jedi have long been the text fans cite when thinking about the Jedi in the larger Star Wars universe. Yoda is one of the wisest beings ever, so he's telling the truth. Any other Jedi who we see in books, TV shows, or movies, must surely be gone by this moment at the very latest, right?

Not according to Star Wars Rebels producer Dave Filoni. Filoni was posed with the question when talking about the most recent episode of Star Wars Rebels and his answer offers interesting insight into Lucasfilm's thinking when it comes to these larger themes. It's much more in line with Obi-Wan's famous line: "What I told you was true, from a certain point of view"
The exact context of Filoni's answer is a spoiler for Rebels, so if you haven't seen "Jedi Night," turn back now.
G/O Media may get a commission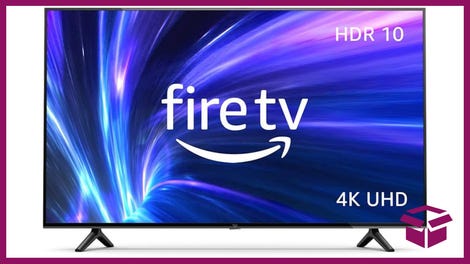 42% Off
Amazon Fire TV 50" 4K Smart TV
Nerdist asked Filoni if he felt he had to kill Kanan Jarrus because of Yoda's Jedi declaration.

It has nothing to do with that. I can't stress that enough. Rebels exists apart from whatever the consequences of all the other characters are, and you don't know when Yoda tells Luke that what he's trying to drive Luke towards. It's like when Obi-Wan tells Luke, 'Your father's the best starfighter in the galaxy.' I've always been like, 'Well, we sure shot Anakin down a lot in Clone Wars.' So, that's not necessarily true either.

People take every line as this complete doctrine, and that's absolutely not the case. To try to believe, you have to then parse that line out and start dividing it. Like what does it mean even to be a Jedi and does Yoda get to be the only person to define that? What he's saying is, 'You're the only person left, Luke, trained in the art of a Jedi and being a Jedi that is around right now the way that Obi-Wan and I taught people.' I could take it that way.
This thought process, of course, makes sense when you start looking forward even toward The Last Jedi. Is Luke Skywalker the "last Jedi?" In some ways, yes. But when he dies, he says he won't be. Does learning from books make Rey a Jedi? What does being a "Jedi" even mean? So basically, when it comes to Rebels, it seems like maybe the fates of Ahsoka Tano and Ezra Bridger are still in the air. We'll find out very soon.

Star Wars Rebels will air its final episodes on February 26 and March 5.
[Nerdist]