This week in the world of cartoons we see the return of a TMNT wannabee, we get a preview of Hulk and the Agents of S.M.A.S.H & Avengers Assemble, plus we take a look at an old episode from Star Trek: The Animated Series as we get ready for the release of Into Darkness.
Ultimate Spider-Man & Transformers: Prime are off this week, with Transformers: Prime returning May 17th. As always - minor spoilers ahead!
Teenage Mutant Ninja Turtles – "Pulverizer Returns!"
The fake member of the TMNT, the Pulverizer, is back. Shredder is making a battalion of mutants (are Tokka and Rahzar headed to the series?) to attack the turtles, so Leo and the crew call on the Pulverizer to lend a hand. TMNT has moved from Friday nights on Nickelodeon to Saturday mornings, so check your DVR.
---
Hulk and the Agents of S.M.A.S.H & Avengers Assemble Preview
G/O Media may get a commission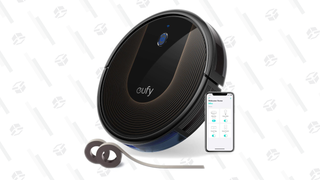 48% Off
Eufy BoostIQ RoboVac
If you took part in free comic book day last Saturday, you might have snagged this Marvel offering, which adapted stories using art from the upcoming series. Hulk and the Agents of S.M.A.S.H. will debut August 11th, while Avengers Assemble kicks off with a one hour preview on May 26th before the official season begins on July 7th. The pics above and below are taken from the Free Comic Book Day offering.
Agents of S.M.A.S.H. appears particularly exciting in this preview, as the series will feature Skaar, Red Hulk, and She Hulk and scripts by Paul Dini. I'm excited about a Hulk series that features an expanded cast.
---
Star Trek: The Animated Series – "More Tribbles, More Troubles"
In honor of J.J. Abram's newest installment of the Star Trek franchise arriving next week, let's take a look at one of the more unusual moments in history. Star Trek: The Animated Series aired for two seasons beginning in 1973, the first such revival of the franchise after the cancellation of the live action series in 1969.
Star Trek: TAS brought back the majority of the original cast (Walter Koenig is a looming exception) to do voice work. In this clip, the crew of the Enterprise is taking on an unusual Klingon weapon, a situation made worse when Cyrano Jones beams aboard with a batch of tribbles.
---
Adventure Time – "James Baxter the Horse"
This is one of those episodes of Adventure Time that shows off how wonderful and weird the series can be. Finn & Jake are enamored with James Baxter - a horse that travels on a bouncing ball as it repeats "James Baxter" as it neighs.
Finn & Jake try to replicate the joy James Baxter brings, but in doing so, the duo disrupts a funeral and does battle with a ghost that shoots milk.
---
Regular Show – "Carter and Briggs"
Modecai & Rigby are spending a night watching their favorite cop show, Carter and Briggs. When the opportunity to win a spot in an episode of the show arises, the duo enter the "8th Annual Donut Spinathon" to meet their heroes.
---
Teen Titans Go! – "Double Trouble"
Raven make a duplicate of Cyborg in this episode, as Cyborg is a little sick of hanging out with Beast Boy all the time.
Teen Titans Go! – "The Date"
Speedy asks Starfire on a date, so Robin kidnaps him. Seems fair.
There are some great moments featuring a love-struck Robin in this clip.
---
Top image courtesy of Nickelodeon. Adventure Time and Regular Show air Monday nights on Cartoon Network. TMNT airs Saturday mornings on Nickelodeon. Teen Titans Go! airs Tuesday nights and Saturdays on Cartoon Network.