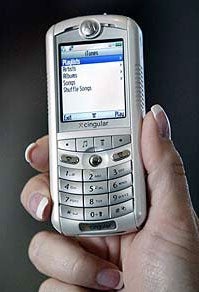 When Motorola says 100 songs, they mean it. It turns out that ROKR prevents you from adding more than 100 tunes, even if you are using less than the 512MB of space available (pity all the punk rockers who listen to 3 minute Ramones songs). [Dave's iPaq]
The iTunes interface is clunky. Nothing wrong with the software itself, but there is a noticeable lag between screens. Our resident phone expert Carlo Longino Our friendly Phonescoop-er Eric L. says this has nothing to do with the ROKR's ARM7 chip—which is what I though originally—but is instead a function of Motorola's craptacular handset software. (Although Eric said it in a much nicer way!)
The ROKR is not the iPhone. Several analysts quoted in every business newspaper that would listen said they believe that Apple still has its own handset in the works. Maybe they are just in disbelief that Steve Jobs would let the ROKR float in the first place (like the rest of us). Or perhaps the ROKR is a red herring to divert attention while Apple perfects the real deal—pay no attention to the man behind the curtain folks! [Macworld UK]
ROKR battery life: Motorola is claiming music time lasts for 15 hours using wired headset, up to 6 hours using surround sound. But everyone agrees that is optimistic. [Mobiledia]
Continue ROKR-ing after the jump...

The ROKR is only one of the iTunes-enabled phone that is likely to be introduced in the coming year. Word is that the iTunes deal is either non-exclusive, or the exclusivity ends after a few months. Ah, a Sony Ericsson with iTunes... dreams don't cost a thing.
Motorola may be delivering another iTunes-capable phone before the end of the year. A Motorola product manager droped the nickel (but not the dime) after we whined about the ROKR at the Webster Hall party last Wednesday. (That party, by the way, had terrible attendance. Common, however, served up a great performance.)
Add a 1GB MS card to the Treo 650 and what do you get (besides a disastrously expensive phone?): A handset that holds 240 songs. Plus, when the phone rings the music automatically pauses and then the music re-starts when you end the call. No iTunes interface... yet! [Thanks Cesar]
Nokia's music phone holds something like 3,000 songs.
Amazon.com is selling the ROKR with a $150 rebate, putting the final price at $99
with a $40 service plan, natch. Got to act fast, foks! [I4U]
The iTunes Phone Driver is already being delivered in OS X
s automatic software update.
And here are the reviews:

[I4U]

[PC Mag]

[Boston Herald]

[The New York Times]

[iLounge]

[Mobiledia]