To some, Comic-Con is a sweaty heap of pulsating fans. To us, it's a galleria of delights and treasures waiting to be uncovered. But the goodies are hard to find. So we're taking the guesswork out of navigating the Con floor.
Deadly Mississippi Tornado Kills More Than 2 Dozen | Extreme Earth
Here's our list of the best things to buy at this year's Comic-Con, complete with booth numbers where you can find them, and how much they cost.
Artist Alex Pardee holding Captain America inspired poster titled "The Patriot."
Price: $60
Booth: 5502
G/O Media may get a commission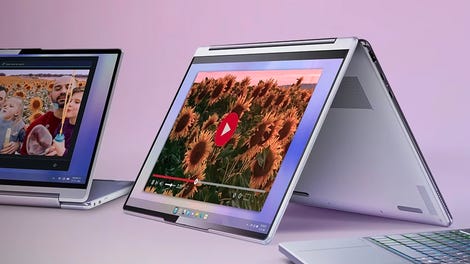 up to 70% off
Lenovo Spring Clearance
T-shirt Good Night Lava (exclusive comic-con color)
Price: $35
Booth: 5502

Dave Pryor's Star Wars Totem, Bacon For President, and Star Wars Couch
Price: $20 Per Print
Booth: F5

Mondo Tees
Mondo is running an exclusive print every day of Comic-Con (the next picture is an amazing Cthulu image from Preview night). Posters are running from $40 for a single print to $400 for a set of Star Wars posters. They're gorgeous.
Booth: 433

Mondo Tees Preview Night Print (there will be a new image each day).
Booth: 433
Price: $40

The creators behind Penny Arcade (Jerry Holkins & Mike Krahulik) are on hand all weekend at their booth to sign new books, posters and DVDs.
Booth: 1334

Star Wars Ice Cube Trays – Now you can pretend you are Boba Fett every night.
Price: $10 per character set
Booth: 2601

Swamp Thing and the Un-Men figure set from Mattel
Price: $30
Booth 2945

Masters of the Universe Polly Pocket set – I'm not sure why these exist, but they are really damn cool.
Price: $20
Booth 2945

Ceremonial Predator Mask Prop Replica
Price: $325
Booth: 1929

Limited edition San Diego Comic-Con Sackboy variant (Little Big Planet), Green Lantern, Sinestro, and Scott Pilgrim figurines from Mezco
Price: $20 for Sackboy and Scott Pilgrim, $40 for the Green Lantern and Sinestro set
Booth: 3445
Frank Koniz's ceramic Heathrow the Hedgehog, new for Comic-Con and limited to 25 of each color.
Price: $65
Booth: 4734
Koniz's Smoking Rabbit King of Rock, which gives the classic vinyl toy a touch of KISS.
Price: $100
Booth: 4734
Alaska Robots makes its Comic-Con debut with this irreverent t-shirt take on The Last Unicorn.
Price: $20
Booth: 1033
This gentleman eel is just one of many aristocratic animal prints from The Fun Machine.
Price: $10
Booth: F1
I Heart Guts has several new plush organs debuting at Comic-Con, including this stuffed intestine (with an adorable, if vestigial, appendix).
Price: $19
Booth: 932
Tentacle hair combs from artist Echo Chernik add an eldritch touch to anyone's hair.
Price: $5 for a small comb, $20 for a large comb
Booth: 4820
Keep the TARDIS close to your heart...and stomach...and legs with this dress from Pendragon Costumes.
Price: $230
Booth: 4814
Toymaker Funko debuts four Disney/Pixar Comic-Con exclusive toys this year, including a glow-in-the-dark Mikey and a retro Mr. Incredible.
Price: $15
Booth: 4829
Mimobot adds to their line of flash drive characters with bounty hunter Bossk, Han Solo in carbonite, and the Batman: Arkham City edition of Harley Quinn. Tara Strong, who voices Harley in the game, will be doing a signing at the Mimobot booth this week.
Price: 4GB $19.95, 8GB $29.95, 16GB $44.95
Booth: 4936
[Via Loquaciousmuse]
Cyanide And Happiness
The team from Cyanide and Happiness will be around all weekend to sign their wares!
Price: $5 to $20 for prints, shirts, plushies and posters.
Booth: 1234

"Don't Hold Your Breath" by Brian Ewing
Price: $100
Booth: 433

Kuso Vinyl's Thundercraps Comic-Con Exclusive HOOOOOOOOO
Price: $15
Booth: 514

This is the 7th year at Comic-Con for the Crazy Crazy Contacts lady (officially titled the Contact Lens Store). Go say hi, she's great, and buy some of her awesome cat lenses.
Price: $40 - $80
Booth: A5

Kelly's Heroes Plastic Steampunk Claw (great for the kiddies)
Price: $15
Booth: D7

Voo Doo Baby Key Chains (perfect gift for the person you have to buy something for from Comic-Con
Price: $9
Booth: 514

Alex Pardee Human Centipede Art (new for Comic-Con, along with Gizmo and the Queen Alien prints).
Price: Ask Artist
Booth: 5502

1,000+ Caras lucha libre masks!
Price: $10
Booth: B6

I-Mockery Pixel Posters packed with pop culture references.
Price: $10
Booth: E10

MixoKookyCans
Price: $10 per can (comes with a Godzilla papercraft)
Booth: 5602

Shark Art by Tae Young Choi
Price: $10
Booth: E5

Hanna-Barbera production lay out for Space Ghost (serious nerd cred right here)
Price: $1,500
Booth: 501

New League of Extraordinary Gentleman Comic by Alan Moore (released early at Comic Con)
Price: $10
Booth: 1721

A dark t-shirt from Grant Morrison's new Sinatoro movie.
Price: FREE
Booth: Follow @sinatoro on Twitter for details on where to get yours.

Hasbro's exclusive Star Wars figurines set (comes in a cardboard Death Star box)
Price: $129.99
Booth: 3329

Quick and easy Star Trek cosplay (also great for day wear).
Price: $20 for the t-shirt, $40 for the dress
Booth: 2543

Plush Yeti!
Price: $35
Booth: 2030
These decorative embryo pillows by artist Miso are sure to confuse or delight your houseguests.
Price: $12
Booth: F2
Grumpy Heart Bear gets even grimmer in this print from Imaginism Studios.
Price: $25
Booth: G6 & G7
Adult Swim brings a new round of must-have Venture Bros. figurines, including classic Dr. Girlfriend.
Price: $40
Booth: 3949
This Comic-Con exclusive poster is limited to 300, with a randomly distributed 25 prints signed by Matt Groening.
Price: $40 unsigned, $250 signed
Booth: 5629
Jayne Cobb wore this psychedelic pinup tee, and now, thanks to Quantum Mechanix, so can you.
Price: $19.95
Booth: 2944
Erika's Walton's toy dinosaur earrings go in one ear and out the other.
Price: $28
Booth: 1732
What's better than a kitten with a jetpack? A kitten with a jetpack covered in glitter.
Price: $50
Booth: 1737