It's that time of year again — the moment when we all realize we didn't get a Halloween costume yet. And luckily, a whole industry exists to sell us ready-made versions of popular characters. Here are the weirdest, (allegedly) sexiest and most random new costumes for sale in 2014!
Note: This year, I tried to be a bit more discriminating and not pick on costumes that were basically okay-looking. A lot of the licensed movie and TV show costumes looked sort of acceptable, even if you could tell they probably wouldn't look that hot in person. But to win inclusion in this feature, it had to be either kind of strange or inappropriate. Or both!
All costumes from Spirit Halloween, unless otherwise noted.
Random Fantasy Characters, Including a Swordswoman and Two Witches.
Frozen's Elsa, with a Disco top, and Maleficent, with an unconvincing headpiece.
G/O Media may get a commission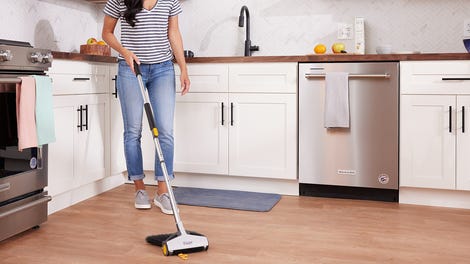 BOGO 50% Off
Flippr - BOGO 50% Off
These Cat in the Hat costumes creep me out.
Cartoon Characters: Betty Boop, Catbug from Bravest Warriors, and Twilight Sparkle.
Whole Lotta Care Bears
Baywatch costumes!
The other Guardians of the Galaxy costumes are fine, but this Drax has a dead-eyed stare that worries me.
Random cartoon animal suits, including a really psycho looking ostrich.
Ned Stark, Jon Snow and Melisandre. The other Game of Thrones costumes looked fine, but this Ned Stark looks like he should join a boy band.
Queen Gorgo and Artemesia from the 300 Sequel. For some reason, Gorgo has a giant pleather bust.
These are not official Hunger Games costumes, presumably because the license wasn't available. And they look a little too... glam.
This inflatable Godzilla costume might look terrible, or it might look kinda cool. Actually not sure from the picture:
Here's a random Jungle Girl (who is probably Katy Perry from "Roar" as many people have pointed out):
There are a lot of terrifying clowns this year. These are the scariest.
And then these are slightly less creepy clowns
These are "Lycans," which are some kind of werewolf costume with ape faces
The masks on these Planet of the Apes costumes run right into the Uncanny Valley
Sexy Gender-Swapped Versions of Freddy Krueger, Beetlejuice, Boba Fett and Darth Vader
"Big Baby" costumes for adult men.
Elmo, Cookie Monster, Bert and Ernie. Total nightmare fuel.
Bad Grampa, Lunatic and "Twisted Lion Tamer"
"Betty Bondage" And "Barry Bondage" Costumes. I don't get this. Is it a baseball thing?
Another year, another set of "sexy" genderswapped Mario Bros. costumes. Do you wear the mustache as a necklace, or hold it on a stick?
TMNT pajamas, movie costume replicas, and "sexy" Turtles. They did their best to copy the look of the movie version of TMNT.... unfortunately.
Most of this year's licensed superhero costumes from Spirit are pretty good. But the Captain America on the far left and the Poison Ivy on the far right seem... not right.
Two Sharknado costumes. The one on the left is especially high concept.
2 Native Americans, plus a belly dancer, a Voodoo priestess, and a happy "Gypsy"
Two Roy Liechtenstein "Pop Art" costumes (which I kind of love) and Egyptian girl
Pinata Horse, Soul-Eating Panda, Moonshine Guy and Raggedy Andy
And below is a selection of new costumes from Yandy.com, the site that actually specializes in "sexy" costumes:
Spidey!
Bat-Villains!
More Bat-Characters!
Wonder Woman!
Thor!
Aquaman, Iron Man and Generic Superhero
Frozen!
Princess Leia, plus Sexy Frankenstein and Jellyfish