If you wish science fiction would have a bit more actual science (and focus on the near future instead of the year 5 billion), you'll be thrilled that When It Changed, an anthology pairing scientists and SF authors, is out.
To create When It Changed, editor Geoff Ryman (author of the multiple award-winning novel Air), set up science fiction authors with scientists, and had them develop stories together. The awesome list of contributors includes Paul Cornell, Justin Robson, Liz Williams, Kit Reed, Adam Roberts, Gwyneth Jones, Ken MacLeod and Ryman himself. According to the publisher's Facebook page:
When It Changed is an attempt to put authors and scientists back in touch with each other, to re-introduce research ideas with literary concerns, and to re-forge the alloy that once made SF great. Composed collaboratively – through a series of visits and conversations between leading authors and practicing scientists – it offers fictionalised glimpses into the far corners of current research fields, be they in nanotechnology, invertebrate physiology, particle physics, or software archaeology. From Planck's Length (the smallest indivisible distance) to Plankton (potential saviours of the Earth's ecosystem), from virtual encounters between Witgenstein and Turing, to future civilisations torn asunder by different readings of the Standard Model, together these stories represent a literary 'experiment' in the true sense of the word, and endeavour to isolate a whole new strain of the SF bug.
Ryman told the news department at Manchester University, where he's based at the University's Center for New Writing:
We wanted to go out and locate what is fresh and new in the sciences, and gives writers a chance to work with researchers to come up with different, contemporary themes. When it Changed actively extends the scientific repertoire of fiction — all fiction, because we have mainstream writers as well. But it gave some of the best SF writers I know of a chance to work closely with a scientist. Some of the ideas they've come up with are mind-blowing ... round the world particle colliders, virtual research, or suits that heal their wearers. And the scientists get to comment or explain.
G/O Media may get a commission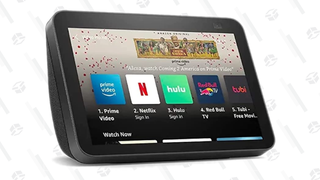 The book's launch party is tomorrow, Oct. 24, in Manchester, UK. We can't wait to see a copy! Too bad it's not out in the U.S. until April 1 next year.