Karen Gillen talks Nebula's mysterious new BFF in Infinity War. The Gifted recruits another Marvel mutant. There's more rumors about the focus of Sony's first Spidey spinoff, Silver and Black. Plus, new pictures from Inhumans, Seth McFarlane on The Orville's influences, and a new look at Pennywise in It. Spoilers now!

The Hunger Games/Twilight
Lionsgate CEO Jon Feltheimer believes there are "more stories to be told" in either, or both franchises, and hopes the studio's bullpen of creators will come up with them in time.
There are a lot more stories to be told, and we're ready to tell them when our creators are ready to tell those stories.
[Variety]
---
Avengers: Infinity War
In an interview with Fandango, Karen Gillen revealed Nebula has made an entirely unexpected "new BFF" in time for Infinity War.
I know who her new BFF is, and I can't tell you. I can't. I promise you it's brilliant and unexpected and just so good… I don't know about any frenemies. She is on a clear mission, as everybody is, to deal with someone with a glove, and I think that is the most important issue. So I think people are grouping together to take care of this task.
G/O Media may get a commission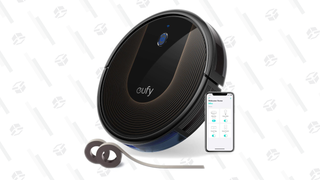 48% Off
Eufy BoostIQ RoboVac


---
Silver and Black
That Hasthag Show has more rumors about how Sony plans to handle the Spider-Man adjacent spinoff.
If there's anything general audiences might know about Felicia Hardy, aka the Black Cat, it's that she's a master thief and it's exactly that skill that puts things in motion in the film as Hardy has stolen from the wrong people and now everyone, including Silver Sable, is out to get her. Though the pair shares the title of the film, Sable is unquestionably the film's protagonist. Her father, Ernst, and her Symkarian people play a major role in the events of the film and drive her personal vendetta against the film's main villain, Mendel Stromm.
---
Cowboy Ninja Viking
The Chris Pratt-lead film adaptation of the graphic novel by A.J. Lieberman and Riley Rossmo—about a man with three personalities who believes, at specific times, himself to be a cowboy, ninja, or viking—is currently looking at a 2019 release date. [/Film]
---
Deadpool 2
Josh Brolin, as Cable, posed for a photo on set with a young Deadpool fan.
---
The Shape of Water
Fox Searchlight added some new stills to the film's webpage, including a curious image of star Sally Hawkins performing an experiment with six brown eggs.
---
It
Empire has a creepy new photo of Pennywise in action.




---
The Gifted
Elena Satine has been cast as Beautiful Dreamer, according to showrunner Matt Nix. Nix revealed the character will debut in the show's second episode, and will have romantic ties with Thunderbird. During the show's panel at the TCA press tour, Nix discussed Dreamer's mutant ability to manipulate people's memories:
One of the things about her character is that's a really sexy power that isn't a gigantic power. We aren't blowing up a building with her … it doesn't involve a six-week CG build.
The announcement comes on the heels of a new trailer, featuring a Coldplay cover, Amy Acker being an uncool mom, and basically a recut of the last two trailers we've seen for this show.


---
Marvel's Spider-Man
Speaking with CBR, animation head Cort Lane stated the Jackal will play a major role in the series:
Jackal is a big villain, and he's connected to our characters in a very personal way. We worked hard at making the villains and the villain threats personally connected to Peter and the people close to him, so the scopes are not just epic, in terms of saving the city, but also very emotional. And we do a very classic Venom storyline — black suit Spider-Man, trying to get rid of Venom — and I think that's something we haven't done in a very long time."
---
Legends of Tomorrow
TV Guide sat down with Caity Lotz and Brandon Routh to discuss the "totem-based" powers of the next season's new villain, the water-witch Kuasa.
---
Supergirl
TV Guide also asked Tom Welling if he'd been approached to appear on the series, just as Terri Hatcher, Dean Cain, Helen Slater, Erica Durance, and other actors with ties to the Superman/Supergirl franchise had been previously. Seemingly confused, Welling responded he doesn't think the Clark Kent of Smallville "exists in that world".
No, and I mean that respectfully. It's a different tone. That show is great; it does really well, but I don't think the character I played exists in that world.
---
The Orville
TV Guide also spoke to Seth McFarlane about the inspiration behind his new series, The Orville:
There are many different places that I draw from when I think of this, there's Twilight Zone and Star Trek, a lot of these different franchises that I hold in high regard — and I kind of miss the forward-thinking, aspirational, optimistic place in science fiction that Star Trek chose to occupy. It's a space that's kind of waiting to be filled in this day and age, when we're getting a lot of dystopian science-fiction, a lot of which is great and entertaining. But it can't all be Hunger Games, it can't all be the nightmare scenario. I think there's some space for the aspirational blueprint of what we could do if we got our shit together, and that's been something that's been missing for a while. And it's something that meant a lot to me as a kid.
---
Inhumans
The Royal family is grim and poorly lit in these new cast photos—head to the link to see more. [Comicbook.com]
---
Rick and Morty
Finally, here's a trailer for this week's episode of Rick & Morty, introducing Maximus Renegade Starsoldier.
---
Banner art by Jim Cooke.