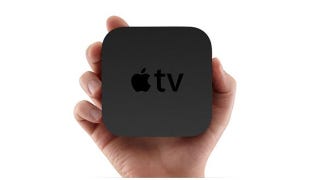 According to a FCC filing, Apple has a smaller Apple TV in the works. What's weird is that it's not that much smaller than the current Apple TV—the small version would be 93.78 square millimeters as opposed to the current version's 98 square mm. Everything else about the FCC filing on the Apple TV looks identical to the current one.
Yesterday, MacRumors had reported that the latest Apple TV software update revealed three models of the Apple TV (2nd generation, 3rd generation and an unknown model). Could this ever so slightly smaller Apple TV be that unknown model?

There aren't many more details that can be lifted from the FCC filing but if you start noticing a smaller black square, you'll know that's the mysterious Apple TV. Not to be confused with the unicorn Apple TV. [FCC via Engadget, MacRumors]
Update: The wonderful guys at AnandTech discovered that the smaller Apple TV actually packs an A5X processor and a new single antenna solution. This addition to the smaller Apple TV is curious. Is this smaller Apple TV just a stealthy update or a bigger (um, smaller) and better new beast?