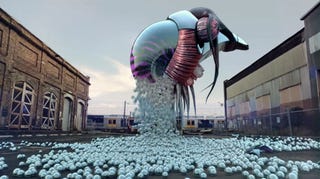 This Australian production/advertising agency, Umeric, has created two of the best commercials I've seen. The first, for MTVNHD (MTV Nickelodeon High Definition) is my favorite—anyone else reminded of War of the Worlds when watching it?
The second advert I like is actually for MSN.ca, taking the fusty four-colored butterfly and transforming it into a high-tech animal this world will sadly never see flying through the air. [Umeric via Fly Lyf]
MTVN HD 'Genetically Modified HD' SPOT A - Umeric from Umeric on Vimeo.
MSN TALK 'Butterflies' Spot A, English - Umeric from Umeric on Vimeo.
Galleries, because I think these screengrabs are worth looking at in closer detail: