After bombarding and destroying all of Gaddafi's anti-aircraft missile batteries, the Joint Task Force Odyssey Dawn is now controlling the Libyan air space. This gallery shows all the weapons being used by the allied forces. Live updates.
This is an F-16 Fighting Falcon fighter aircraft belonging to the 480th Fighter Squadron—taking off from Spangdahlem Air Base, Germany on March 19, 2011.
A beautiful shot of a crew chief from the 52nd Aircraft Maintenance Squadron directing an F-16 out of a hangar in Spangdahlem Air Base, Germany, March 20, 2011.
G/O Media may get a commission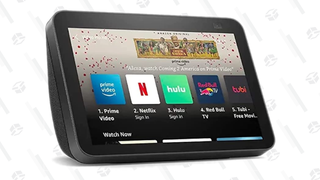 F-16 preparing to take off.
U.S. Marine AV-8B Harrier, assigned to Marine Medium Tiltrotor Squadron (VMM) 266, 26th Marine Expeditionary Unit landing on USS Kearsarge, March 19, 2011.
A Rafale fighter from the French Air Force. They have deployed eight of these advanced fighters as well as four Mirage 2000.
This is the French aircraft carrier Charles De Gaulle after leaving its Toulon's naval base en route to Libya, March 20, 2011.
This is an Eurofighter EF-2000 Typhoon from the Italian air force, landing at the Birgi NATO Airbase in Trapani, south of Sicily on March 20, 2011.
Arleigh Burke-class guided-missile destroyer USS Barry launches Tomahawk missile directed at Libyan aircraft defense positions.
USAF's F-15e Strike Eagle fighter getting ready to taxi at the Lakenheath Royal Air Force base, in England, on March 19.
The B-2 Spirit of Pennsylvania just after landing at Whiteman Air Force Base, Mo. returning from a bomb raid over Libya's air defense positions.
2nd class aviation electrician mate Joseph Fremen calibrates the infrared sensor of an MH-60 Sea Hawk taking part in operation.
A French Mirage 2000 fighter jet of the French armies prepares to land at the aerial military base of Solenzara in the French Mediterranean island of Corsica. (STEPHAN AGOSTINI/AFP/Getty Images)
An RAF Tornado GR4 aircraft prepared for launch at RAF Marham on March 19, 2011 in Norfolk, England. (Photo by SAC Lisa Conway/MoD via Getty Images)
An RAF Tornado GR4 aircraft coming out of the hangar, at RAF Marham on March 19, 2011 in Norfolk, England. (Photo by SAC Lisa Conway/MoD via Getty Images)
The Royal Air Force VC10 and Tristar air-to-air refuelling aircraft readies for action ahead of the first UK air combat mission in support of UN Resolution 1973, at RAF Brize Norton on March 19, 2011 in Oxfordshire, England. (Photo by SAC Neil Chapman/MoD via Getty Images)
An F-18 Hornet jet fighter maneuvers over the NATO airbase of Birgi, near Trapani, Sicily, Italy, Saturday, March 19, 2011. Six Danish F-16 fighter jets landed Saturday at the U.S. air base in Sicily, and U.S., Canadian and Spanish F-18s flew into the region as the international military buildup mounted in Italy for action against Libya. (AP Photo/Carmelo Imbesi)
A Royal Air Force Typhoon aircraft is prepared at Gioia Dell Colle, Italy Monday March 21, 2011. (AP Photo/Neil Chapman. Ministry of Defence)
Another view of a Royal Air Force Typhoon aircraft, prepared at Gioia Dell Colle, Italy, Monday March 21, 2011. (AP Photo/Neil Chapman. Ministry of Defence)
US Navy submarine USS Providence, en route to Libya coast. (Photo from US Navy)
US Navy submarine USS Scranton, en route to Libya coast. (Photo from US Navy)
A Marine Medium Tiltrotor Squadron, 26th Marine Expeditionary Unit's AV-8B Harrier jump jet returns to USS Kearsarge for fuel and ammunition resupply while conducting air strikes in support of Joint Task Force Odyssey Dawn, March 20, 2011. (Official Marine Corps photo by Lance Cpl. Michael S. Lockett)
Another shot of the Marine Medium Tiltrotor Squadron aboard the USS Kearsarge, at sea. (Official Marine Corps photo by Staff Sgt. Danielle M. Bacon)