It's the ultimate form of recycling — just build your house out of old ocean vessels and ships. Here are some of the most incredible ways that people have turned boats into buildings, and vice versa.
Benson Ford Shiphouse, South Bass Island, Lake Erie, Ohio
The ship was built and launched in 1924 for the Ford Motor Company to transport iron ore and other materials across the Great Lakes. It was decommissioned in December 1981, and sold to Frank J. Sullivan. Five years later the forward structure of the ship was removed and it's been used as a 7,000 square foot (650 sqm) four-story summer home since then.
Some of the rooms were designed by Henry Ford himself.
G/O Media may get a commission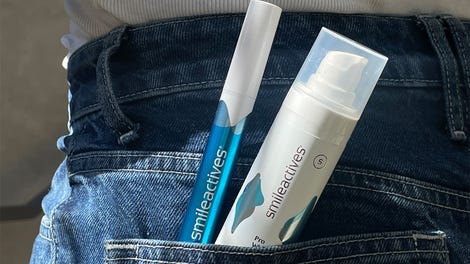 58% off
Whitening Powerhouse Pen & Gel Duo
(via Kurt Haubrich and Ship On The Bay)
Klimahaus Bremerhaven 8 Ost, a centre in Bremerhaven, Germany
(via Klimahaus Bremerhaven on Facebook and Jacqueline Poggi)
Coca-Cola Building, Los Angeles, California
Designed by Robert V. Derrah as a Streamline Moderne building and built in 1939.
(via Floyd B. Bariscale)
Boat Sheds, Lindisfarne, UK
(via Jonathan Fuller and I like)
Safety First Shiphaus, Batuan, Bohol, Philippines
(via ShipHaus Facebook Page)
Ministry of Defense building in Abuja, Nigeria
(via Wikimedia Commons)
The House of Five Continents, Antwerpen, Belgium
(via Truus, Bob & Jan of Holland and Philip1001971)
Henriette-Bathily Women's Musum, Gorée, Senegal
(via Angranderic and Ji-Elle)
A house in Fernandina Beach, Florida
(via Debra Jane Seltzer)
The S.S Encinitas and the S.S Moon Light, Encinitas, California
These boat replicas were built by a retired engineer named Miles Kellogg in 1928. These are not working ships, and were built from scrap materials from a demolished bathhouse at Moonlight Beach originally built in 1916.
(via cherbonsy and Encinitas Preservation Association)
A Ship House between Fier and Berat in Albania
(via Atlas Obscura)
A villa in Marseille, France
(via Haynes World)
A Ship House in Derrynane Beach, Ireland
(via Doug Jackson Photography, David Bossonet and In Search of Gelato)
Somewhere in Croatia
(via Strange Buildings)
A Ship Restaurant, Chengdu, China
(via Babsworld/TravelPod)
Captain's Lodge, Rio De Janeiro, Brazil
(via kekanto and Pousada do Capitao)
Aquatic Park Bathhouse Building (now the San Francisco Maritime Museum), San Francisco, California
The Streamline Moderne styled building was constructed in 1939.
(via Chris J Wood, Leonard G., Nathan Rupert, Jochen Wolters)
Lake Huron Ship House
(via Great Lakes Canoe)
Two more buildings in various places
(via Kill My Time, The Chive)