At Tokyo Game Show, Microsoft demoed five new titles for Xbox 360's Kinect. If anyone's been on the fence about buying into the whole "interpretative dance-gaming thing", they might just change their minds after hearing of some of these.
Kotaku was at TGS and wrote about Grasshopper Manufacture's Codename D, a psychotic-sounding game set in an "evil amusement park filled with twisted and eerie creatures." Typical weapons, such as guns and swords, aren't included—suggesting it could introduce some new ways of interacting with the game.
Capcom's Steel Battalion: Heavy Armor, set in 2082, shows a world minus technology—a world that resembles WWII more than anything else. This will inevitably have you reaching for your arm-gun. The trailer looks pretty immense.
G/O Media may get a commission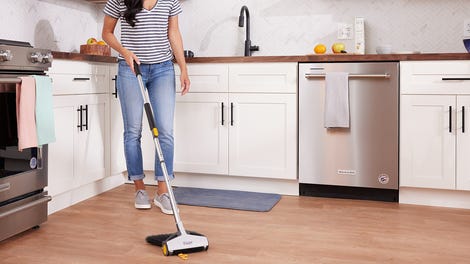 BOGO 50% Off
Flippr - BOGO 50% Off
The one I'm most excited about is Project Draco, a dragon-flying game that, from the artwork (pictured), makes me think of the PS2/Wii game Okami.
Details are scant about SEGA's Rise of Nightmares, with only a logo and brief trailer to go by. Apparently it will be terrifying though, and has been likened to both Saw and Silent Hill.
If Rise of Nightmares is more Saw-like, then Haunt is more Ghostbusters-like. It's still within that horror genre, but aimed at kiddywinks, it's got cartoon ghosts and haunted mansions to contend with.
All five games will be on sale in 2011, at unspecified times—bit of a shame really, when Kinect is launching in November.
TOKYO - 16 September 2010 - Today, Microsoft Corp. and the industry's leading Japanese storytellers showcased 10 transformative games, including five exclusive titles for Kinect for Xbox 360, the controller-free entertainment experience releasing exclusively on Xbox 360 this November. Phil Spencer, Corporate Vice President for Microsoft Game Studios, and Takashi Sensui, General Manager of the Home & Entertainment Division for Microsoft, delivered the Tokyo Game Show (TGS) keynote address alongside legendary Japanese creators including Goichi Suda, also known as "SUDA 51," Chief Executive Officer of Grasshopper Manufacture Inc.; Keiji Inafune, Global Head of Production of Capcom and From Software; Yukio Futatsugi, Game Director for Grounding; Shigenobu Matsuyama, producer for "METAL GEAR SOLID: RISING"; and Masaya Matsuura, President for NanaOn-Sha Co. Ltd., who appeared via video.

Capcom and SEGA delighted the TGS audience with two exclusive games for Kinect for Xbox 360: "Steel Battalion™ Heavy Armor," a unique battle experience, and the first-person horror adventure "Rise of Nightmares." Microsoft also previewed a new portfolio of Kinect for Xbox 360 games including eerie amusement-park thriller "codename D" by Grasshopper Manufacture, 3-D adventure game "Project Draco" by Grounding, and the chilling mystery "Haunt" by NanaOn-Sha.

"Microsoft has never been more committed to Japanese developers, the heart of innovative gameplay, thrilling stories and iconic heroes," said Phil Spencer, Corporate Vice President for Microsoft Game Studios. "To date, Japanese games have already grossed more than $2 billion on Xbox 360 and today's announcements signal tremendous opportunities for Japanese developers to deliver the future of gaming with Kinect."

Takashi Sensui, General Manager of the Home & Entertainment Division for Microsoft, commented: "This is the biggest year in our history with controller-free entertainment, the best blockbuster games, movies, television, music and sports all coming to Xbox 360. With the talent of the best creators from Japan, we're able to bring even more fresh and unexpected experiences to millions of people around the world."

Five Exclusive Titles for Kinect for Xbox 360
Looking for adventure and a rush of adrenaline? Microsoft introduced five immersive, exclusive Kinect for Xbox 360 games available in 2011:

· "codename D" (Grasshopper Manufacture, Microsoft Game Studios). From the famed markers of "killer7" and the "NO MORE HEROES" series comes "codename D" from SUDA 51 for Microsoft Game Studios. You must fight for your life to survive an evil amusement park filled with twisted and eerie creatures. With "codename D" for Kinect for Xbox 360, you are the controller as you unleash devastating effects to destroy enemies and objects.
· "Project Draco" (Grounding, Microsoft Game Studios). The director of the cult hits "Phantom Dust" and "Panzer Dragoon," Game Director Yukio Futatsugi, brings you an epic 3-D flying shooter. With the magic of Kinect for Xbox 360, you will be able to nurture and learn to communicate with your dragon as you develop its skills and train it as a partner in combat. Then join friends* on Xbox LIVE to feel the rush of flight as you take to the skies together and experience breathtaking vistas and engage in thrilling battles.
· "Haunt" (NanaOn-Sha, Microsoft Game Studios). Gather friends and family to delve deep into a haunted house dripping with mystery - you'll need every ounce of your wit and cunning if you hope to unravel the veil of rumours that hide its darkest secret. Dodge traps and outwit ghosts, ghouls and frights that lurk with glee around each and every corner. Take a deep breath and immerse yourself in "Haunt," spooky fun for Kinect for Xbox 360.
· "Steel Battalion Heavy Armor" (Capcom, From Software). This all-new game revives the fan-favourite "Steel Battalion" series. With the support of Microsoft, Capcom and From Software join forces to bring this groundbreaking collaborative project to Xbox 360. Manhattan, 2082: In a world where computers and almost all modern technology have been lost, the greatest nations of the world continue to battle for supremacy. The American army lands in New York to begin its first big offensive of a long ground war. Soldiers fire from the trenches as scorched bunkers belch black smoke. As comrades continually fall to the unrelenting crossfire of bullets, the Vertical Tanks make their relentless advance. Experience the battlefield as never before with Kinect for Xbox 360.
· "Rise of Nightmares" (SEGA). "Rise of Nightmares" offers a spine-tingling horror experience that uses the innovative new controls of Kinect for Xbox 360 to give players the ultimate fright. Using their whole body, players will experience fear and tension as never before in this exclusive Kinect for Xbox 360 horror adventure.

Take Aim and Jump in the Ring on Xbox LIVE Arcade for Xbox 360
Japanese developers Treasure and Spike announced the revival of two beloved downloadable,* controller-based experiences on Xbox LIVE Arcade on Xbox 360 - putting your avatar directly into the fighting ring and bringing arguably one of the best 2-D shooters to international audiences for the first time:

· "Fire Pro Wrestling" (Spike, Microsoft Game Studios). Your avatar makes its debut as a pro wrestler! From Spike, creator of the "Fire Pro Wrestling" series, comes this pro wrestling game for everyone. Customise your avatar wrestler, choosing from a wide selection of costumes, before you step into the arena and run wild. Unlock new moves as you advance your wrestling career. Face off against family and friends in offline and online competitive play modes, including single match and tag teams. Ding-ding, round one!
· "Radiant Silvergun" (Treasure, Microsoft Game Studios). The classic scrolling shooter from Japan and spiritual successor to the critically acclaimed "Ikaruga" receives an international release in this revival on Xbox LIVE Arcade on Xbox 360, the first ever since SEGA Saturn. "Radiant Silvergun" will see the return of the unique seven-weapon system among other fan-favourite gameplay features, as well as improvements, including the addition of a new system to enhance the challenging original chain system.

Home for the Best Games in 2010 and Beyond
The destination for the biggest blockbusters like "Dead Rising 2," "Fable III" and "Halo: Reach," Xbox 360 bolstered its impressive lineup with these previews:

· "Body and Brain Connection" (NAMCO BANDAI Games). "Body and Brain Connection" challenges players to exercise both mind and body in the most cerebral and energetic party game ever from the originators of the video game brain training craze. Players of all ages must think fast and act even faster as they answer math, logic, reflex, memory and physical questions using the full-motion capabilities of Kinect for Xbox 360. Featuring over 20 different activities in single-player and multiplayer modes, the game lets up to four friends compete in fun and engaging activities as they strive for the youngest brain age. A daily progress tracker makes sure that players are up to date with their current brain age as they continue to stimulate both mind and body.
· "Child of Eden" (Ubisoft). "Child of Eden" is a "multi-sensory shooter" that will send players diving into a kaleidoscopic matrix of synchronized music and mind-blowing visuals that will usher forth yet another landmark game experience from the mind of renowned game designer Tetsuya Mizuguchi, its creator. "Child of Eden" thrusts the player in the center of a battle to save Project Lumi, a mission to reproduce a human personality inside Eden, the archive of all human memories. As the project nears completion, the archive is invaded by an unknown virus. The player's mission is to save Eden from the virus to restore hope and peace.

· "METAL GEAR SOLID: RISING" (Kojima Productions). "METAL GEAR SOLID: RISING" is the highly anticipated debut of Hideo Kojima's critically acclaimed "METAL GEAR SOLID" franchise on Xbox 360. "METAL GEAR SOLID: RISING" will star Raiden, one of the most popular characters in the "METAL GEAR SOLID" universe, in a new, lightning bolt action adventure on Xbox 360