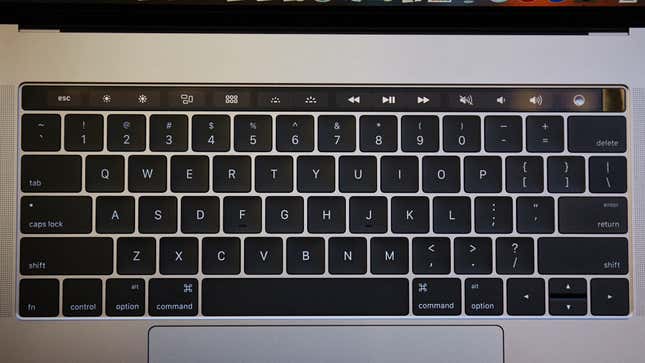 The new MacBook Pro is far from perfect. It's expensive, the Touch Bar feels like a gimmick, it's not upgradable, and the USB-C ports means you'll be stuck using dongles, at least in the short-term. These are all valid reasons for Mac fans to be unhappy with the new MacBook Pro.
But the silliest reason to hate on the MacBook Pro is the loudness of its new keyboard. Yet that's exactly what some people are doing.
YouTuber Louis Rossmann rants for a solid two minutes (from 13:55-16:10) over the loudness of the MacBook's new keyboard.
A handful of Twitter users agree with Rossmann.
Daring Fireball's John Gruber agrees that the new keyboard is louder, but he doesn't think it's a bad thing.
I think the new one is definitely louder. At one point during my review process, I was thinking the same thing, and I asked my wife and son to corroborate. They both told me it just sounded different, not louder. But now I'm thinking maybe I was right.

To me it's of a piece with the clicky feel of the new keyboard, which I like. The premium clickiness is what made me say in my review that it's a mixed bag, not a complete regression from the old ones. People who work in quiet rooms might disagree.
The Wall Street Journal's Joanna Stern also commiserates that it was louder in her tests, too.
As for me, I've used three different MacBook Pro models over the last few weeks and honestly, it probably is a smidge louder. The new MacBook Pro's keys have less travel than its predecessors, and that could be why pressing down on the keys makes more noise. The truth is, we don't know why the keys are louder, but regardles the reason, it's not that big of a deal.
If you want to bitch about the new MacBook Pro, bitch about the lack of Kaby Lake or the lack of rose gold options. But an overly loud keyboard? That's just silly.