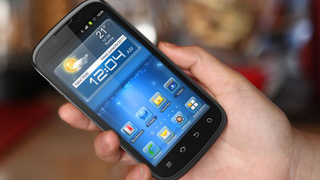 While Nvidia is no stranger to the mobile computing game, until now it's only really been providing scraps of technology required to build mobile phones. ZTE, however, is about to launch the first entirely Nvidia-driven smartphone, and this is it.
According to PC World, the handset will the dubbed the Mimosa X and will be powered by the company's dual-core Tegra 2 processor. Running Ice Cream Sandwich, the phone packs a 4.3-inch 960x540 screen, a 5-megapixel camera, a front-facing camera, and 4GB of storage.
Elsewhere, it will feature Nvidia's Icera 450 HSPA+ modem, which supports multiband HSPA+ and speeds up to 21Mbps. Sadly, no LTE support here, though. According to Nvidia's general manager of mobile business Michael Rayfield:
"The Mimosa X marks the first time NVIDIA technology powers all the major processors in a single smartphone, and also the first time a premium mobile computing experience is coming to the mainstream smartphone market."
The Mimosa X is slated for launch in the second quarter of 2012, but no pricing details have been announced yet. [PC World]