Do you think saving the world is all about explosions and fight scenes? Not at all. There's a lot of paperwork to keep S.H.I.E.L.D. running, and I'm sure this one-of-a-kind desk is where The Avengers stay on top of it.
The desk was created by Tom Spina Designs which is the same studio responsible for the Emperor Throne Chair, and the Han Solo Carbonite Desk. Like the Solo desk, this creation was commissioned by recording artist Mark Hall who intends to auction it off for charity sometime this year, presumably to coincide with the release of The Avengers film.
In addition to a gothic design, the desk features props from the various characters including Captain America's shield, Thor's hammer, Iron Man's mask, Hawkeye's arrows, Nick Fury's needle gun, and even a radioactive vault for the Hulk.
G/O Media may get a commission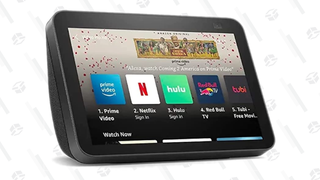 If you can't wait for the auction you can always order a custom desk like this yourself, but you'll probably need the budget of a secret organization like S.H.I.E.L.D. to afford it. [Tom Spina Designs via Born Rich]