It's hot out, which naturally pushes us towards soaking one another with jets of cold water. Maybe you want a summertime arsenal for your kids, or maybe you're just... youthful. Regardless, here's the best new water gun.
Testing Methodology
We filled up our three aquatic firearms, familiarized ourselves with the controls, and then proceeded to shoot one another until we were thoroughly soaked. Upon this point, we sat down under the scorching sun to dry off and contemplate what'd just happened, taking into account ease of assembly, ease of use, water pressure, distance, longevity, and general Fun Level experienced.
---
The is meant to be your faithful sidearm—a water pistol. But this isn't some Main Street squirt gun. The new wave of Super Soakers are now motorized, replacing the arm-numbing pump-action we knew as kids with the insertion of batteries, and a full-automatic firing mechanism, accompanied by a whirring dynamo inside.
G/O Media may get a commission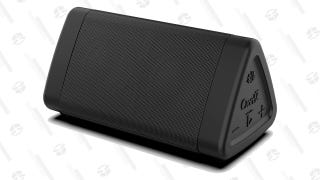 Save 31%
Oontz Angle 3 Portable Bluetooth Speaker
The promise of never having to pause to pump is a nice one, but for a gun this size, the motor doesn't do much to help, and necessitates opening up a tiny hatch with a screwdriver to install (or replace) batteries. This adds an appreciable amount of heft to a gun that's otherwise comfortable to hold. And what do you get in exchange for trading elbow grease for electricity? A dinky little stream. The actual shooting from this gun is minimal, and paired with the mechanical whining that pushes it out, is sort of like watching a robot baby pee into the air. It's a thin stream that hits empty fast, and doesn't pack much range at all—Nerf claims 25 feet, but ours fell at least five feet short of that, drooping in a sad little arc with no accuracy to speak of. If you want to soak someone who is asleep or bound to a Hoveround, this might be your weapon of choice, but it's too underpowered for backyard warfare. [$10]

Nerf Super Soaker Electrostorm
Mechanism: Battery-powered motor (2x AA)
Water capacity: 2.6 ounces
Range: 25 feet (advertised)
Price: $10
Gizrank: 2.5

---
The Lightningstorm stands on the other end of the Super Soaker spectrum, packing enough separate parts and heft to look like it could literally kill you. With laser bullets. But it's essentially the same concept as the Electrostorm, writ large—the former is a pistol, this one's a machine gun.
Nerf has maximized just about everything is can here, with a near-absurd swappable 35-ounce ammo tank, full automating firing, a blast shield, and shoulder stock. Were the foes of the Cold War made out of sponge, this might have been NATO standard issue. Except, like its little pistol brother, the Lightningstorm just doesn't shoot well enough. As awesome as its form might be—slapping in a refilled ammo drum is a great feeling—that motor just doesn't press hard enough. The stream is more powerful, less droopy, and farther-reaching than the Electrostorm's, but doesn't justify its size and the need for four AA batteries. Thanks to the giant reservoir you'll be able to spray for a while, but you just won't get that much out of it—this thing may be super sized, but it never really soaks. ($25)

Nerf Super Soaker Lightningstorm Specs
Mechanism: Battery-powered motor (4x AA)
Water capacity: 35 ounces
Range: 25 feet (advertised)
Price: $25
Gizrank: 3.0

---
Oh boy, we've got a good old fashioned upset on our hands! Have you ever heard of Water Warriors? Probably not, because Super Soaker is the gold, silver, and bronze standard of water guns, virtually synonymous with the entire concept. Anything else has to be some kind of lame dollar store ripoff, right? We thought so too, and we were wrong.
The Colossus does super soaking better than Super Soaker because it doesn't try to be some kind of 21st century supertoy. In fact, it looks a lot like the Super Soakers of yore—offensively colored, a big bubble tank in the back, and a pump mechanism up front. It feels a little chintzy, but once you pull the trigger, it's anything but: the Colossus provided the only true dousing of the group, that thick, satisfying AAAHHH stream that knocks sunglasses off faces and reaches almost as far as the advertised 40 feet. It takes a lot of pumping to empty out the 75-ounce reservoir, but, come on, battery-powered water guns are for the weak of arm and heart. It's simple, retro, and maybe even a retrograde, but it delivers the most pure fun of the trio. ($20)

Water Warriors Colossus Specs
Mechanism: Pressure pump
Water capacity: 75 ounces
Range: 40 feet (advertised)
Price: $20
Gizrank: 3.5

---