Television make some inroads into comics this week with appearances from Chloe in Action Comics and Ianto writing a Torchwood tale. Also, more graphic novels than you can shake a stick at!
First off, the Wetworks line gets a new end-of-the-world treatment with Wetworks Mutations (DC/Wildstorm) from Kevin Grevioux and Christopher Long. Another apocalyptic title is Terminator 1984 1 (Dark Horse), which picks up where the first film left off and introduces Kyle Reese's time-traveling buddy, Ben (you can read our review of it here). Action Comics 893 (DC) marks the debut a familiar character — Smallville's Chloe Sullivan, who will appear with Jimmy Olsen in a back-up story by Nick Spencer. In the main story, it's Lex Luthor versus Gorilla Grodd by Paul Cornell. Hard to argue with that, methinks.
Max Brooks' G.I. Joe: Hearts and Minds 5 (IDW) is on the stands; the issue has a special focus on Blowtorch. Amazing Spider-Man 644 (Marvel) focuses on an equally incendiary topic: Norman Osborn's son, who he had with his son's ex-girlfriend. Icky! For more lurid superhero action, try Matt Fraction's recolored Casanova 3 (Marvel/Icon): super-spies, super-swamis, and super-advanced island civilizations! Meanwhile, Brian Azzarello's First Wave 4 (DC) promises pulpy goodness of the old-school variety.
G/O Media may get a commission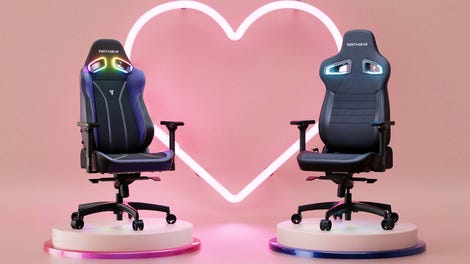 Up to $150 off
Vertagear Gaming Chairs
And from someone who knows and thing or two about mysterious bureaucracy, Gareth David-Lloyd (a.k.a. Ianto) will be penning a story in Torchwood 3 (Titan); this issue also features pencils from Pia Guerra of Y: The Last Man fame. Another celebrity writer this week is Anthrax's Scott Ian, whose Lobo compilation HIghway To Hell (DC) gets a trade paperback (it's worth noting that Anthrax wrote the finest paean to Judge Dredd in the history of recorded music).
The collected Volume 1 of Farscape: Scorpius (Boom!) promises unpleasant extraterrestrials, whereas Chris Eliopoulos' Franklin Richards, Son Of A Genius: Ultimate Collection Book (Marvel) delivers a earthly tale of a very likable boy genius. Some interesting indie books this week include Shari Chankhamma's Sisters Luck (Slave Labor Graphics), which is about two sisters with conflicting luck powers, and Life Sucks (Square Fish), a story of a wimpy vampire condemned to work at a convenience store in Los Angeles.
There's a lot of snazzy collected editions this week. We have the hardcover collection of Scott Snyder's American Vampire Volume 1 (DC/Vertigo), Alan Moore's Absolute Promethea Volume 2 (DC/Wildstorm), Warren Ellis' Ultimate Comics Iron Man: Armor Wars (Marvel), and the hardcover collection of X-Men: Second Coming (Marvel).
You can find the rest of this week's releases here and your neighborhood comic shop here. Happy reading, gang!