Until Torchwood returns for its new season, Titan Comics will tide you over a Torchwood series, penned by none other than Jack Harkness a.k.a. John Barrowman! All this (and some angry metahuman gods) on this week's Comics We Crave.
Torchwood 1 includes a one-shot story by series star John Barrowman and his sister Carole. Their tale, "The Selkie," delves into Scottish mythology and a murder mystery. Turf's Tommy Lee Edwards is on pens. In the back-up story, Torchwood script editor Gary Russel delivers a five-part tale of Jack, Ianto, and Gwen stuck in a cosmic hotel. It's good to see at least some Torchwood projects hit print until the TV series debuts on Starz.
What other issues are on the stands?
Baltimore: The Plague Ships 1 (Dark Horse): Mike Mignola and Christopher Golden bring you a new miniseries starring vampire hunter Lord Henry Baltimore, who fights the undead in the wake of World War I.
G/O Media may get a commission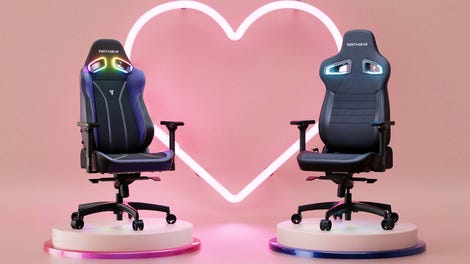 Up to $150 off
Vertagear Gaming Chairs
BIG EVENT COMIC ROUND-UP: Neal Adams' Batman Odyssey 2 (DC), Mike Mignola and Duncan Fegredo's Hellboy: The Storm 2 (Dark Horse) , Shadowland 2 (Marvel), and S.H.I.E.L.D. 3 (Marvel)...starring "Issac" Newton.
Superman: The Last Family of Krypton 1 (DC): Long-time Superman scribe Cary Bates helms this Elseworld miniseries about Kal-el's entire Kryptonian family landing on Earth. Hopefully, the House of El will move next door to the House of Kent, and a heartwarming sitcom will ensue.
Marvel Universe vs The Punisher 1 (Marvel Knights): In this alternate reality miniseries, Frank Castle is the only non-infected man in the M.U. His quarry? The I Am Legend-esque superheroes running amok in New York.
Magnus Robot Fighter 1 (Dark Horse): Jim Shooter pens a new Magnus series, replete with miniskirts, bot-punching, 56 pages, and a back-up story showcasing Magnus' first adventure. Magnus = an anagram for "G, U MANS." Even Magnus' anagrams are manly.
Secret Six 24 (DC): Reason 1 to buy this comic: this is a consistently rock-solid series by Gail Simone. Reason 2: Deadshot in a cowboy hat.
Kane and Lynch 1 (DC/Wildstorm): Ian Edginton pens this miniseries starring the hitman duo of videogame fame.
Deadpool 1000 (Marvel): A whopping 104-page special issue featuring writers like Peter Bagge, Howard Chaykin, and David Lapham and artists including Philip Bond and Paco Medina.
New Mutants Forever 1 (Marvel): Chris Claremont gets the opportunity to tell his New Mutants arcs that never hit print circa the mid-1980s.
Nancy In Hell 1 (Image): A cheerleader takes on the underworld in this miniseries from Avatar stalwart illustrator Juan Jose Ryp and El Torres.
Doomwar 6 (Marvel): It's Victor Von Doom versus everybody else as this miniseries comes to a close.
In the collected volume department, we have a duo of espionage-themed trades starring resplendently dressed leads: Fables spin-off Cinderella: From Fabletown With Love DC/Vertigo) and the Essential Captain America Volume 1 (Marvel) trade paperback that features stories by Stan Lee and illustrations from Jack Kirby.
What's MY PICK OF THE WEEK? Supergod 4 (Avatar) by Warren Ellis (script) and Garrie Gastony (pens). Issues of Supergod comes out once in a blue moon, but this miniseries is a doozy. Every nation on Earth is engaged in a superhuman arms race. Their metahuman deities, the Supergods, square off against each other kaiju-style. In this issue, the British mycological Supergod Morrigan Lugus (who has the fungal power to make people spontaneously masturbate, not making this up) squares off against India's bio-computer Krishna. It's like Destroy All Monsters but with a little bit of highfalutin Warren Ellis hard science to make the anarchy go down. Insanely recommended.
You can find the rest of this week's releases here and your neighborhood comic shop here. Happy reading, gang!