When you're a regular reader of a comic, you're always somewhat prepared to process whatever's about to happen in it. Forging that kind of relationship is the challenge that all new series with new characters have to face, and some comics handle it better than others. With that in mind, we've selected three new titles out this week that meet this challenge head-on—and have the potential to become your favorite new series.

---
Abbott

Early into Saladin Ahmed's Abbott, from Boom Studios, someone refers to the comics' titular investigative journalist Elena Abbott as a "black Lois Lane" and that's not really fair. Lois Lane became black once and she was... kind of a (well-meaning) mess about the entire thing. Abbott's the sort of reporter who would have taken one look at Clark Kent and had an exposé about Superman's secret identity on her editor's desk within the hour. She's smart, she's in control, and in Abbott, she's taking on the demon of anti-black racism in 1970s Detroit—and literal supernatural demons.
G/O Media may get a commission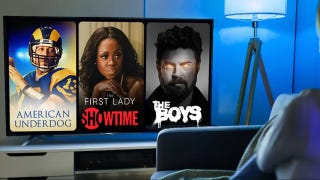 UNDER $1
99¢ Prime Video Channels
When a mutilated farm animal is discovered somewhere within the city, Detroit's police are immediately ready to pin the gruesome discovery on the Black Panthers or another "militant" group advocating for civil rights. But Abbott, who understands the police's racist attitudes toward its black citizens all too well, isn't convinced. The city's in a state of change and flux to be sure, but no pro-black activists would commit the kinds of acts that suddenly begin to pop up all with increasing frequency.
Abbott's first issue is light on the demonic in favor of showing us the worlds—each of them a different facet of Detroit—that Elena has to exist in simultaneously. Sami Kivelä's lines and Jason Wordie's colors blend to create a Detroit that feels both nostalgic and contemporary, hammering home the book's message that gentrification and workplace discrimination are deeply-rooted, systemic problems that we've yet to truly deal with.
As one of the only black, female journalists working at her local newspaper, Abbot's a pillar of the black community because she's willing to write stories about things like police brutality that other journalists won't. By that same token, her blackness and womanhood also make her a target to her colleagues, the police, and nearly every other white man she has to deal with in a professional capacity.
The very promise of darkness and demons to come will propel you to the end of Abbott's first issue and by the time you actually see the series' first baddie, you'll be hooked. (Saladin Ahmed, Sami Kivelä, Jason Wordie, Micaela Dawn)


Vinegar Teeth

Dark Horse's Vinegar Teeth is the sort of comic where you have to take a deep breath and clear your mind before you actually read it. Vinegar Teeth is very much a graspable book about a pair of police detectives, but reading the comic is also a decidedly... unique experience.
Everything about Vinegar Teeth's style, from writer Damon Gentry's script to artists Troy Nixey and Guy Major's illustrations, is designed to grip you and make you drink in just how gross and macabre the comic's world is. One night in Brick City, an interdimensional portal opens up over the reservoir and a horrifying, cancerous-looking blob creature plops out. Before long, it explodes and deposits dozens of larval versions of itself into the city's water supply.
As luck would have it, the dimensional breach takes place just as a pair of shady criminals are about to be apprehended by the Brick City PD and detective Artie Buckle, a cop with a bit of a drinking problem. The crime bust goes upside down and it seems as if Buckle won't get his collar when suddenly, a.... blob like creature shows up on the scene, eats one of the criminals, and ends up helping the police take in the other suspect. Delighted by its heroism and unbothered by his obvious other-worldliness, Brick City's mayor decides to make the creature an officer and partner it with Buckle, who names it "Vinegar Teeth" after the way it smells.
Naturally, Vinegar Teeth and Buckle end up bonding, as all odd couple cop duos do, but Vinegar Teeth absolutely shines in the way it goes about characterizing its players and creating a sense of place and feel. You can feel how comfortable Gentry and Nixey are scripting what happens in Brick City, as if it's a world they've been to and feel comfortable in, and Nixey's attention to visual detail in his lettering and wide shots is tremendous.
Vinegar Teeth may gross you out, but if that (and tentacle monsters) is the sort of thing you're into, you won't be disappointed. (Damon Gentry, Troy Nixey, Guy Major)
Dissonance

The advantage comic books will always have over movies is that with just lines and color, comics creators can realize sprawling, lush, impossible worlds unlike anything we've ever seen. The only real limitation is imagination. In Melita Curphy's Dissonance, from Image, a world much like our own is forever changed after beings known as Fantasmen make first contact—and present a proposition for mankind.
Unlike flesh and blood humans, the Fantasmen are a race of beings made up entirely of spiritual energy who've long since evolved beyond their need for corporeal forms. But the Fantasmen's enlightenment and technological advancement eventually plunged their civilization and their home, Terra Fantasme, into an endless, pointless war. The key to finding peace and meaning, Dissonance explains, was for the Fantasmen to rediscover their long-lost humanity, ideally by bonding with sentient, corporeal hosts with similar cognitive functions. After sending out dozens of ambassadors to far-flung worlds in hopes of finding a suitable race to bond with, the Fantasmen stumble upon Earth and soon convince countries across the world to enter into something of a symbiotic relationship with them.
In exchange for knowledge and technology, the Fantasmen ask only that members of humanity willing to bond with them go through a process known as Dissonance that fuses Fantasmen and humans into a new kind of being. This is all just the setup to Dissonance's actual story, which is all about a shadowy cabal of politicians, religious figures, and media magnates who are on the verge of throwing humanity and the Fantasmen's idyllic paradise of a civilization into chaos.
The first issue's dense with lore, to be sure, and it's worth reading multiple times, but it's absolutely gorgeous—not to mention chock-full of fascinating ideas about spirituality and the nature of identity that make it an excellent introduction to a new series. (Melita Curphy, Singgih Nugroho, Sam Basri, Varsam Kurnia)