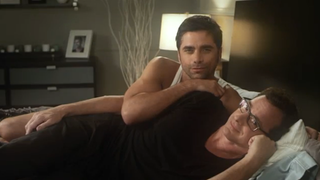 If the idea of snuggling up close to John Stamos gives you uncomfortable flashbacks to a long-maned Jesse Katsopolis gyrating wildly in an Elvis jumpsuit, stop that. And accept that those should be the most comfortable flashbacks you can have.
Joining Stamos in this highly spoonrotic tutorial (full video below) is his former Full House and current foul-mouthed perma-guest star Bob Saget. The combination of which, okay, that's fine if you get a little queasy:
The rest of this week's star-studded top comedy videos, including Paul Rudd pitching, Patton Oswalt wizarding, and a closeted Amy Poehler, can be found over at Splitsider.
Other highlights from the week in comedy:
-Stephen Colbert's Super PAC released its first two ads, which you can see here and here. One Iowa station refused to run them.
-We examined the philosophies found in the comedy of Louis CK.
-We tallied up the ten best comedy pilots in TV history.
-We looked at eight comedy stars who took unconventional paths to the top.
-We talked to SNL's John Mulaney about his job and growing up a comedy nerd.
-We met the people behind/beneath the Muppets.
-We looked at the lost roles of Janeane Garofalo.
-The first trailer for A Very Harold and Kumar 3D Christmas was released.
-We took another look at Steve Coogan's Hamlet 2.
-We took a look at the sometimes-subversive world of Singaporean sitcoms.
-We examined Garrett Morris's contributions to the early years of SNL.
-We looked back at Nichols and May, the cool parents of modern comedy.
-We talked to a somewhat-loopy Ken Marino about Childrens Hospital.
-CollegeHumor's Sarah Schneider was hired as a writer at SNL.
-Lopez Tonight was unceremoniously given the axe.

Splitsider is a website about comedy and the people who create it. It covers movies, TV shows, web videos, books and any other format that exists to make you laugh.