This week's TV is full of insane treats. Including geek icon Felicia Day playing a geek icon. And possibly the weirdest Adventure Time team-up yet. There's the "holy grail" of real-life giant squid footage. And probably the most important episode of Nova in quite some time. American Horror Story and Last Resort are both having finales, but only one of them is a fake episode of 60 Minutes written by a former Firefly producer.
Check out tons and tons of clips and details for this week's TV, below!
Today:
Ultimate Spider-Man (7 PM, Disney XD):
This show is back at last — and Disney XD is airing two episodes tonight, in a special timeslot, maybe to try and get the grown-ups pumped up for Spidey. Featuring the Lizard and Electro:
Ultimate Spider-Man returns to stop the nefarious plot of Doctor Octopus. But not everything goes according to plan when Spidey's friend, Dr. Curt Connors, transforms into The Lizard.
When Spider-Man's old enemy Electro takes control of all the electricity in New York City, Spidey and his team work together to stop him before he takes over the world!
Adventure Time (7:30 PM, Cartoon Network):
Following a recent trend of throwing some weird side characters together, we have "Mystery Dungeon":
Ice King, Neptr, Tree Trunks, Shelby and Lemongrab must work together to escape a dungeon.
That's followed by a brand new Regular Show and a new Mad.
Continuum (8 PM, Syfy):
This is a fun episode — Kiera's attempt to pretend to be a Portland cop doesn't last long, as you might sort of expect, and meanwhile the Liber8 terrorists are making serious attempts to get themselves back to the future. One of the more fun episodes of this season.
Being Human (9 PM, Syfy):
In this clip, Sally takes advantage of her human body. And in the episode in general, "Sally flirts with Trent (John Bregar), an old acquaintance; Aidan searches for blood and reunites with someone from his past; and Josh considers taking his relationship with Nora further, while Nora meets a foe intent on revenge."
G/O Media may get a commission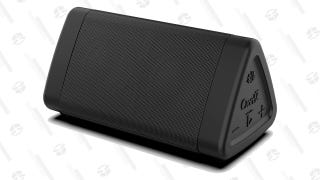 Save 31%
Oontz Angle 3 Portable Bluetooth Speaker
Lost Girl (10 PM, Syfy):
Will the ridiculous "fae" pun titles never stop? This week: "Subterrfaenian." Huh?
Dyson's new partner could mean trouble for Bo, who can't shake a feeling of darkness as she follows Kenzi underground to help her pal search for a missing childhood friend.
Is Dyson's new partner Vex? Hope not.
Also on TV tonight: There's a new Crash & Bernstein at 8:30 PM on Disney XD. Fox has the first episode of The Following, the weird serial killer/Edgar Allan Poe show from Vampire Diaries co-creator Kevin Williamson, at 9 PM. There's also a brand new Castle on ABC at 10 PM.
---
Tuesday:
Level Up! (8 PM, Cartoon Network):
Yup, Tower Prep is long since toast, but this show just keeps chugging along. Life is weird. This time around:
The Fun Kicks Off When Max Runs Into an Old Rival Billionaire Genius - On this week's episode, when Max's enemy Hideo moves to Daventry Hills the gang fights to keep the peace between the rival billionaires.
Also on TV tonight: Science is once again showing three hours of Fringe from 8 to 11. There's a new Doomsday Preppers on National Geographic at 9 PM, plus a brand new Dual Survival at the same time on Discovery.
---
Wednesday:
Arrow (8 PM, The CW):
Dear Thea: You do not ever wonder if someone is having an affair with John Barrowman. You simply wonder how John Barrowman finds the time to have affairs with so many people.
TOMMY AND MALCOM HAVE A HEART-TO-HEART TALK AND OLIVER AND DIGGLE ARE AT ODDS WITH EACH OTHER - The next person on Arrow's (Stephen Amell) list is Diggle's (David Ramsey) commanding officer and mentor from Afghanistan, Ted Gaynor (guest star Ben Browder). Oliver suspects Ted is responsible for recent armoured truck robberies, but Diggle defends Ted and takes a job at Ted's security company to keep an eye on him. Oliver decides to make a move on Ted, which puts him at odds with Diggle. Meanwhile, Thea (Willa Holland) suspects that Moira (Susanna Thompson) is having an affair with Malcom (guest star John Barrowman).
The Neighbors (8:30 PM, ABC):
This show just keeps on chugging, reworking classic sitcom plots to include aliens. This week: school dance!
"Dream Weavers" - When the Weavers and Bird-Kersees chaperone Amber and Reggie's school dance, Marty, Debbie, Larry and Jackie find themselves in their own "high school" dramas. Debbie's attempt to re-create a romantic moment from her courtship with Marty backfires, and, Jackie is so fascinated with how Marty and Debbie met in high school, she believes the moment she met Larry was boring by comparison — so she tries to change history.
Nova (9 PM, PBS):
If you only watch one episode of Nova this year, this should be the one. It's "Rise of the Drones," and it's actually kind of an important show. Here's the info:
Drones. These unmanned flying robots - some as large as jumbo jets, others as small as birds - do things straight out of science fiction. Much of what it takes to get these robotic airplanes to fly, sense and kill has remained secret. But now, with unprecedented access to drone engineers (including a rare interview with the "Father of the Predator," Abe Karem) and those who operate drones for the U.S. military, NOVA reveals the amazing technologies that make them so powerful. Discover the cutting-edge technologies that are propelling us toward a new chapter in aviation history.
Supernatural (9 PM, The CW):
Thank goodness, this show is getting a much-needed guest star — the return of Felicia Day! Plus LARPing!
FELICIA DAY RETURNS! - Sam (Jared Padalecki) and Dean (Jensen Ackles) investigate the mysterious deaths of two LARPers (Live Action Role Playing) who were playing a game entitled Moondoor. The guys are thrilled to discover the Queen of Moondoor is none other than Charlie (guest star Felicia Day). The three learn that a fairy (guest star Tiffany Dupont) has been commandeered to harm people and the only way to stop her is to find her master.
American Horror Story: Asylum (10 PM, FX):
It's the season finale! It's written by Tim Minear (Angel, Firefly), and even if you haven't been following this season at all, it sounds like the sort of thing that everybody should watch just as a stand-alone piece of cleverness. According to Ryan Murphy: "The whole thing is done almost as a documentary with Lana current day looking back on her life and doing a 60 Minutes-esque [interview]. That plays with like 10 different time periods. It was a very ambitious script and a very ambitious shoot." Doesn't that sound fascinating?
---
Thursday:
The Vampire Diaries (8 PM, The CW):
So the more I think about it, the more I feel like last week's midseason premiere was sort of slow and weak, with the "you're being forced to explain the plot to each other for an hour" thing. And I'm not sure I entirely buy Stefan's new alliance with Rebekah, the least badass of the Originals. But hopefully that means this week's episode will be twice as thrilling to compensate. Right?
A NEW DANGER - Jeremy (Steven R. McQueen) is furious when Klaus (Joseph Morgan) tries to control him by putting Matt's (Zach Roerig) life in danger. Damon (Ian Somerhalder) coaches Jeremy as he prepares to take on Klaus' new vampires, but they find that Kol (guest star Nathaniel Buzolic) has beaten them to it. Kol makes it clear that he will stop at nothing to convince everyone to give up the search for the cure. Looking for a new ally, Rebekah (Claire Holt) reminds Stefan (Paul Wesley) that they were once close friends. When Sheriff Forbes (Marguerite MacIntyre) and Mayor Hopkins (guest star Rick Worthy) question Shane (guest star David Alpay) about his involvement in the Founders' Council deaths, Bonnie (Kat Graham) steps in with questions of her own, and Shane's responses push Bonnie to the edge of her powers. Elena (Nina Dobrev) negotiates with Klaus to keep Jeremy safe, but when danger suddenly appears from a totally unexpected enemy, Elena comes up with her own daring plan for Jeremy.
Last Resort (8 PM, ABC):
The series finale. And I'm really hopeful they had enough advance warning to put together a real ending for the show. I would also like a pony.
"Controlled Flight Into Terrain" - In the exciting season finale, a violent battle for control erupts on the submarine, which leaves the Colorado vulnerable to capture by a third party — one with an exploitative plan. Can Marcus and Sam take control of the sub before it's too late?
Beauty and the Beast (9 PM, The CW):
And now this show is back, too. With 20 percent more mutant love triangles.
VINCENT'S FORMER FIANCÉE DISCOVERS HE IS ALIVE - Vincent (Jay Ryan) barely escapes being caught by his former fiancée, Alex (guest star Bridget Regan) and must deal with the repercussions of his past. While Cat (Kristin Kreuk) is in the hospital, she is forced to confront her feelings for Vincent. Meanwhile, J.T. (Austin Basis) gets a surprising visitor asking about old research he did on mutant DNA.
Archer (10 PM, FX):
Here's what's up: "The Wind Cries Mary" - Archer and his former best friend (Timothy Olyphant) are holed up in the Vermont wilderness, fighting hard to come out on top.
Also on TV tonight: There's a new House of Anubis on Nickelodeon at 8 PM. And a new Deadliest Space Weather on the Weather Channel at 9.
---
Friday:
Merlin (10 PM, Syfy):
Let's not go to Camelot. 'Tis a silly place. Oops, too late.
Morgana comes dangerously close to getting her revenge on Camelot with an evil scheme that fools everyone, even Merlin, and uses Princess Mithian as bait.
Also on TV tonight: There's a new Teenage Mutant Ninja Turtles on Nickelodeon at 7 PM. There's a new Nikita at 8 PM on The CW. And there's a brand new Phineas & Ferb on Disney at 9 PM.
---
Saturday:
Star Wars: The Clone Wars (9:30 AM, Cartoon Network):
Why is Jon Favreau being such a jerk?
Pre Vizsla and Maul attack Mandalore and Duchess Satine, but their alliance is soon tested.
DC Nation (10 AM, Cartoon Network):
On Green Lantern, "A Manhunter presence on Ysmault threatens the peace between the Red and Green Lanterns." On Young Justice, "Black Manta seeks vengeance against Miss Martian." Plus some hilarious/weird DC Universe shorts.
Abominable Snowman (9 PM, Syfy):
Featuring the star of Highlander: The TV Series! In this TV movie, "world-class skiing and boarding experts must battle a man-eating Bigfoot, a raging blizzard, and avalanches to escape a deadly mountain. The movie stars Adrian Paul (Highlander) and Chuck Campbell (Sanctuary)."
Also on TV today: A new Ben 10: Omniverse on Cartoon Network at 9 AM ("Store 23"), and a brand new My Little Pony: Friendship is Magic at 10:30 AM.
---
Sunday:
Ultimate Spider-Man (11 AM, Disney XD):
And now this show is back in its usual time slot, with an episode about the Rhino, in which the Rhino goes after Flash Thompson.
Monster Squid: The Giant is Real (8 PM, Discovery):
Apparently this is the first ever footage of a giant squid in its natural habitat. Says Discovery:
The giant squid has been captured on video in its natural habitat for the first time ever.

This long-sought after footage - considered by many to be the Holy Grail of natural history filmmaking - will be revealed by Discovery Channel and NHK in January 2013.

With razor-toothed suckers and eyes the size of dinner plates, tales of this creature have been around since ancient times. The Norse legend of the sea monster the Kraken, and the Scylla from Greek mythology, might have derived from the elusive giant squid.

This massive predator has always been shrouded in secrecy, and every attempt to capture a live giant squid on camera in its natural habitat has failed. Until now.

Mankind finally confronts the greatest mystery of the deep as the first-ever footage of a live giant squid in its natural habitat is revealed in Discovery Channel's Monster Squid: The Giant Is Real.
Robot Chicken (Midnight, Adult Swim):
In "Botched Jewel Heist," you can expect to learn about: "A meeting between Jason Voorhees and Michael Meyers; a rap for pescatarians; the future of holidays."
Also on TV today: Your favorite show, and mine, is back: Dog With a Blog has an episode on Disney at 8 PM! ("The Bone Identity.") Plus Fox has all its usual animated shows, starting at 7:30 PM. And Animal Planet has a new Finding Bigfoot at 10 PM.
Sources: Futon Critic, MSN TV, TV Guide, and various TV studio press releases.