This week, we bid a sad farewell to Eureka — but the good news is, one of the greatest British shows in forever is finally on our screens. And if you haven't become obsessed with Misfits yet, you should get ready to clear your Thursday evenings. There's also a detailed look at the history of the Batmobile, just in time for The Dark Knight Rises. Plus Fry becomes a chick magnet on Futurama!
Check out brand new clips from Adventure Time, Futurama, Gravity Falls, Eureka, Avengers and more, below.
Today:
Adventure Time (7:30 PM, Cartoon Network):
It's "Card Wars": "Finn and Jake embark on an epic game of Card Quest." Check out a clip at left! That's followed by a new Regular Show, a new Annoying Orange, and a new Mad.
The Batmobile (8 PM, The CW):
Now that all six of the major on-screen Batmobiles have appeared at Comic Con, it's time to delve into the history of Batman's ride, with this brand new half-hour documentary... which is being aired twice in a row. Here's the details:
The special uses archival footage, images and illustrations of the Batmobile to document its birth and evolution to the present day. Interviews with filmmakers, key designers, builders, stunt drivers, actors and fans of the Batmobile lead the viewer on an exploration of the true impact of this cultural icon. Personal stories will interweave with historical context to tell the definitive story of the world's most recognized automobile. Interviews include actors Christian Bale and Adam West, and directors Christopher Nolan, Joel Schumacher and Tim Burton.
Eureka (9 PM, Syfy):
It's the series finale, unfortunately. Here's what to expect from "Just Another Day":
Wormholes randomly materialize around Eureka as the Department of Defense is set to shut the town down in the series finale.
Teen Wolf (10 PM, MTV):
The carnage is out of control! People are dying! I like the smirk on Allison's mom's face, when she turns murderous. Here's what to expect: "Scott and Stiles develop a plan to trap the new shapeshifter, while Allison's mom comes up with a plan of her own to take care of Scott once and for all."
Lost Girl (10 PM, Syfy):
This week's pun title is weirder than usual: "Barometz. Trick. Pressure". And here's what it's about:
Bo confronts the Ash and receives a stunning response; Trick tries to look into the future at the risk of exposing too much to the wrong Fae.
Here's what to expect from "Masks":
Bo and Dyson seek an artifact that may release Lauren from her life of servitude to the Fae.
G/O Media may get a commission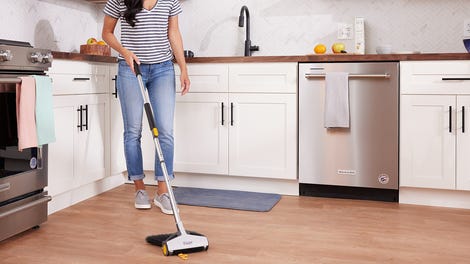 BOGO 50% Off
Flippr - BOGO 50% Off
---
Tuesday:
Freaks and Creeps (10 PM, National Geographic Wild):
The first episode of a new series, in which naturalist Lucy Cooke hunts down the weirdest animals on Earth. In the premiere, she looks at "The Weirdest Monkey Alive," the wild proboscis monkey, which she describes as "a freaky primate with a giant bulbous nose, massive pot-belly and Donald Trump hair." Okay then. Check out a sneak peek at left.
Also on TV tonight: There's a new Total Drama on Cartoon Network at 7:30 PM. And a brand new Mysteries at the Museum on Travel at 9 PM.
---
Wednesday:
Iron Man: Armored Adventures (8:30 PM, Nicktoons):
Tonight, it's the first half of the two-part season finale, "The Makluan Invasion Part 1: Annihilate!" In which: "The Makluan overlord arrives on Earth to reclaim his lost Makluan rings."
Futurama (10 PM, Comedy Central):
Why are Leela and Amy kissing Fry uncontrollably in this clip? Here's why:
Fry is sprayed with the pheromone of a giant male butterfly - which makes him irresistibly attractive to Leela and Amy. Also, the two girls become addicted to Nectar, a nutritional supplement that boosts their performance in the future sport of Butterfly Derby.
Through the Wormhole with Morgan Freeman (10 PM, Science):
This time, Freeman asks: "Can We Eliminate Evil?" I think they tried that on Doctor Who, and it didn't work out so great.
Also on TV tonight: A brand new Dragon Ball GT on Nicktoons at 8 PM. ("Old Kai's Last Stand.")
---
Thursday:
Saving Hope (9 PM, NBC):
Wait — is Charlie making out with a patient that his fiancee put in a coma? How can this be? Here's the official synopsis:
A routine surgical procedure goes awry when Alex's patient, a soon-to-be-wed young woman, falls into a coma. While Alex struggles with a case that hits close to home, Joel treats a patient who does his own body modifications, and Charlie finds himself drawn to Alex's coma patient in the spirit world.
Misfits (10 PM, LOGO):
Chances are you've already seen this excellent British series via Hulu, or other means online. But this appears to be the first ever airing of this amazing show on American television. And if you haven't watched Misfits yet, you really owe it to yourself to check it out. The basic description doesn't do it justice, but it's about a group of British young offenders who are on work duty on probation, when they get hit by lightning and get an assortment of superpowers — but first they have to deal with their murderous probation officer. These characters never feel like broad-brush stereotypes, and it's one of the best uses of superpowers as a means of talking about alienation and identity that we've ever seen. Here's what LOGO wants you to know about it:
When a group of law-breaking 20-somethings are suddenly vested with supernatural powers during a freak electrical storm, their already out-of-control lives are plunged into even deeper chaos. The rough and rebellious clan includes characters Nathan Young (Robert Sheehan), Simon Bellamy (Iwan Rheon), Curtis Donovan (Nathan Stewart-Jarrett), Kelly Bailey (Lauren Socha), and Alisha Bailey (Antonia Thomas). Whether it's turning back time, or throwing people into a sexual frenzy, their newfound abilities prove to be as troublesome as they are strange. As they come to terms with their powers, these teens will have to decide how to use them and whether to do so for good or just for good times. Take the supernatural formula, give it a bad attitude, a punk haircut, and hit of ecstasy - and you'll get an idea of just what makes this series so wildly different.
Seriously. Even if you've seen it, tell your friends to check it out.
Also on TV tonight: There's another new Dragon Ball GT at 8 PM on Nicktoons, "Family Bonds." That's followed by a new Monsuno at 8:30 PM. Plus a brand new Wilfred on FX at 10 PM.
---
Friday:
Gravity Falls (9:30 PM, Disney):
We told you last week this was the best new cartoon on TV, and since then we've heard from a bunch of people agreeing with that assessment. Here's what's up this week:
"Dipper Vs. Manliness" - In a quest to attain manliness, Dipper ventures into the forest to battle the notorious Multi-Bear. Meanwhile, Mabel tries to teach Grunkle Stan how to be attractive to women, particularly the waitress in the local diner, Lazy Susan.
Check out a clip!
Chasing UFOs (10 PM, National Geographic):
"Abducted in Arizona." Doesn't have quite the same ring as "Sleepless in Seattle." But if you're at home on a Friday evening and seriously considering watching UFO shows, you're probably up for it.
Lost Girl (10 PM, Syfy):
This Canadian import premieres in its new time slot, to free up space for Warehouse 13 and Alphas on Mondays. This time around: "Midnight Lamp."
Also on TV tonight: A brand new My Babysitter's a Vampire on Disney.
---
Saturday:
Dark Matters: Twisted But True (10 PM, Science):
Fringe doesn't come back for a couple months — but you can watch John Noble being freaky and talking about mad science right now! This time around: "Resurrection Row," "Operation Brainwash," and "Rabid Roulette." Check out last week's episode, which we failed to notify you about — sorry about that.
---
Sunday:
Ultimate Spider-Man/Avengers: Earth's Mightiest Heroes (11 AM, Disney XD):
Here's what's up on both shows:
"For Your Eye Only" - When the S.H.I.E.L.D. helicarrier is taken over by an evil super army, Spider-Man finds himself without help against the forces of Scorpio and Zodiac.

"Along Came a Spider..." - The entire city has turned against Captain America in the aftermath of the Skrull invasion. When the Serpent Society attempts to prevent Viper from captivity, New York is put in the crossfire with only Captain America and Spider-Man to save them.
Check out an Avengers clip above.
Falling Skies (9 PM, TNT):
Sounds like we're taking even more aliens prisoner, while some totally new creatures pop up:
Ben is betrayed by someone he thought he could trust; Tom captures another hostage; Weaver offers Matt a job; members of the 2nd Mass are trapped in a basement.
True Blood (9 PM, HBO):
Here's what to expect from "In The Beginning":
Salome's true loyalties are revealed; Sam's sense of smell comes in handy; Alcide prepares for a fight; Sookie embraces her human side.
What do you want to bet that "Sam's sense of smell comes in handy" is a euphemism?
Breaking Bad (10 PM, AMC):
While Walt and Jesse consider an unlikely new business partner, the DEA is looking at some new leads.
Also on TV tonight: There are two new episodes of Winx Club on Nickelodeon at noon. Leverage airs at 8 PM on TNT. And Adult Swim has Black Dynamite at 11:30 PM, followed by a new Aqua Teen Hunger Force at midnight.
Sources: Futon Critic, MSN TV, TV Guide, and various TV studio press releases.