This week, a serial hugger is loose on Adventure Time! Also, Marvel continues to pop in some amazing guest stars on Ultimate Spider-man and The Avengers: EHM, a forgotten DC hero moonwalks in a DC Nation Short, and we get a sneak preview of Tron: Uprising!
Minor spoilers ahead!
Adventure Time – "Hug Wolf"

Imagine an episode of Adventure Time mashed up with an episode of the Teen Wolf cartoon - not bad, eh? In this episode Finn is caught by a Hug Wolf, which causes Finn to become a night hugger!
The Hug Wolf also gets some great dialogue like "I'm gonna catch you up boy...gonna snuggle you to pieces." I've heard that in a retirement home once or twice more than I'd like to admit.
---
Thundercats – "The Forever Bag"

Kit and Kat walk into Tookit's infinitely large bag, the Forever Bag, and meet a Peter Pan-like group of orphans.
G/O Media may get a commission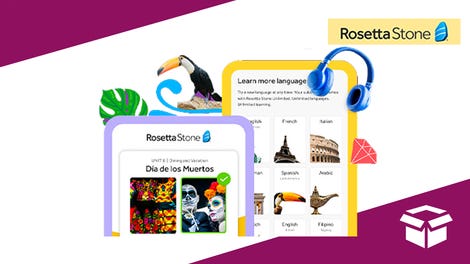 Extra 20% off
Rosetta Stone Lifetime Subscription - All Languages
Will Kit and Kat turn back to a life of thievery? They do seem to be easily lured by sweets in this clip...

---
Green Lantern: TAS – "Invasion"

Hal and company are on the way to one of the Ancient Wonders of the Galaxy - the group hopes to seal off a portal and prevent the Red Lantern Armada from attacking.
Atrocitus has other plans, with Hal falling for the Red Lantern leader's trap.
---
DC Nation Shorts – Vibe – "Enter Extremo"

Vibe makes an appearance via a DC Nation Short just before his emergence in the 3rd New 52 JLA arc. What plans does Geoff Johns have in store for the comic book version of Vibe?

This short series is aiming for a retro-1980s feel (I kind of get a Jem feeling here), with Vibe taking part in a break-dance contest in this episode.

---
Young Justice: Invasion – "Salvage"

Jack Kirby's Intergang is back! Superboy and Blue Beetle tackle this Kirby creation, while Nightwing (a grown up Dick Grayson) tries to save the soul of a fallen comrade.
---
The Legend of Korra – "The Aftermath"

In this clip, Korra and Tahno share a tender moment after Tahno's defeat.
Amon took away Tahno's bending powers forever, leaving him a shell of his former self.

---
Ultimate Spider-Man – "Field Trip"

Thor pops up on Ultimate Spider-Man as a Frost Giant runs amok in New York City!
This clip features Thor going toe-to-toe with Peter Parker quip-wise, with appearances by Nova and Iron Fist too.
---
Transformers Prime – "Triage"

The Iacon City relic hunt continues!
The 3rd part of this hunt sees Ratchet and Wheeljack face off against Soundwave, with Laserbeak also making an appearance.
---
The Avengers: Earth's Mightiest Heroes – "The Ballad of Beta Ray Bill"

Thor meets comic book favorite Beta Ray Bill! The alien Beta Ray Bill is one of the few individuals in the Marvel universe who can lift Thor's hammer.
In this episode, Thor is forced to team up with Bill to save Asgard from Surtur.
---
TRON: Uprising – "Beck's Beginning"

Disney leaked the pilot to Tron: Uprising earlier this week, so here's a clip featuring Elijah Wood voicing Beck, a young program leading the revolution against Clu 2.
We'll welcome Tron: Uprising as a regular member of the Saturday Morning Cartoons cadre in early June.
---
Top image courtesy of Disney XD. Ultimate Spider-Man and The Avengers: Earth's Mightiest Heroes air during Sunday Mornings on Disney XD. The Legend of Korra airs Saturday mornings on Nickelodeon, I really didn't know Nickelodeon still existed — do they still show Guts or You Can't do that on Television? I hope so. Transformers: Prime airs Saturday afternoons on The Hub. Adventure Time airs Monday nights on the Cartoon Network. Thundercats, Green Lantern: The Animated Series, and Young Justice: Invasion air Saturday mornings on the Cartoon Network, so turn your television on.