Benedict Cumberbatch and Scott Derrickson discuss whether Doctor Strange will be Team Cap or Team Iron Man. Gareth Edwards discusses Jyn Erso's emotional journey in Rogue One. Plus, we could be close to hearing more news about the next season of The X-Files, as well as what's to come in the DC/CW TV universe. To me, my spoilers!
Thor: Ragnarok
Marvel posted a Facebook Live video from the final day of filming on the movie, with the cast and crew vaguely discussing their time on the film—however, most interestingly, it gives us our first decent look at Tessa Thompson, still in makeup for her role as the Asgardian warrior Valkyrie.
Director Taika Waititi also mentions a character by the name of Miek—one of Hulk's allies in the Planet Hulk storyline from the comics—is in the movie, lending more credence that the film will borrow a lot of elements from that story.
---
Sherlock Holmes 3
A writer's room has been assembled for the third movie, including Nicole Perlman (Guardians of the Galaxy), Gary Whitta (Rogue One), Kieran Fiztgerald (Snowden), Justin Malen (Baywatch), and Geneva Dworet-Robertson (Tomb Raider). [Variety]
G/O Media may get a commission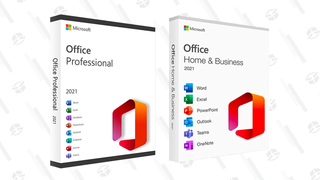 89% off
Microsoft Office Professional 2021 Lifetime License
---
Doctor Strange
Benedict Cumberbatch sees Doctor Strange as a mediator between the two warring sides of Avengers in the Marvel Cinematic Universe:
I think he has to be Team Doctor Strange. His job title is 'defender of the fabric of reality.' I mean, he fights other-dimensional threats that are beyond the perception of that very potent squabble. I'd like to think he's going to help them both, rather than take sides.
Something director Scott Derrickson agrees with:
I think Doctor Strange will always be on his own team. It's part of what I liked about him in the comics, is that he would have interactions and episodes and situations where he would deal with the Avengers and different characters, but part of what makes Doctor Strange Doctor Strange is that he stands in a very lonely position. He is the gatekeeper between our world and other dimensions, so he doesn't really stand on anyone's side other than the side of protecting our world from the malevolent threats that only he can protect the world from.
The Ancient One asks Doctor Strange to have a good trip (double meanings!) in a new TV spot.
---
Rogue One: A Star Wars Story
Gareth Edwards says that the film's emotional journey for Jyn won't unfold as fans expect it to:
Events take place that just shatter her life and send her off to basically be raised as a soldier in the midst of a war. She ends up not the person she was supposed to be.

Even though we're not telling the story of Luke Skywalker, it was important to me that we capture the same themes and emotion. But the film doesn't unfold how you think. It's not the same path as Star Wars.


---
3%

A new trailer for the Brazilian Portuguese drama, about young people trying to get into the protected 3% of the global population in a dystopian future, has been released.
A world divided into progress and devastation. The link between the two sides - Offshore and Inland - is a rigorous and painstaking system called The Process. Everyone in Inland has a chance to go through The Process to live a better life in Offshore. But only 3% make it through.
---
The X-Files
An official pick up of a new 10-episode series for the show is close, according to a report from TV Wise.
---
Supergirl
The CW has released a myriad of synopses for its stable of shows. First up, the Guardian debuts in episode six of Supergirl season two, "Changing."
The Guardian debuts to lend a hand after a parasite alien drains Supergirl (Melissa Benoist) of her power. Mon-El (Chris Wood) considers a less than desirable new career which then leads him to contemplate his motives. Alex (Chyler Leigh) struggles with a new reality.
---
Arrow
Team Arrow faces a new vigilante in Star City in "Vigilante":
When the bodies of two criminals are dropped at SCPD, Oliver (Stephen Amell) realizes there is a new Vigilante in Star City. The team is split about whether they should stop someone who is helping keep the city safe. Diggle (David Ramsey) is frustrated with his new situation and Thea (Willa Holland) fights for Lance (Paul Blackthorne) who confesses a shocking secret. Meanwhile, in the flashbacks, Oliver finally sits down with Konstantin Kovar (guest star Dolph Lundgren).
---
The Flash
Barry's complete and utter cock-up of the timeline comes back to haunt him yet again and Wally in "Shade."
When Wally (Keiynan Lonsdale) starts having dreams about being Kid Flash, Barry (Grant Gustin) realizes he has to tell Wally, Iris (Candice Patton) and Joe (Jesse L. Martin) about what happened to Wally in Flashpoint in order to keep him safe.
---
Legends of Tomorrow
The Legends go back to the Old West (and Jonah Hex) in "Outlaw Country".
The Legends are still reeling from the news that their time travel-nemesis is a speedster when they are alerted to an Aberration in the Old West. When the Legends arrive they find their old friend Jonah Hex (guest star Jonathan Schaech) in trouble with his arch-nemesis, Quentin Turnbull (guest star Jeff Fahey).
---
Supernatural
And lastly for the CW, Sam, Dean, and Mary find themselves being hunted by a demon targeting hunters in "Celebrating the Life of Asa Fox."
When hunters gather to celebrate the life and tragic death of one of their own, Sam, Dean and Mary must take action when a demon starts picking off hunters one by one.
---
The Exorcist
Finally, Fox has released a synopsis for the eighth episode, "The Griefbearers."
As Marcus, Thomas and Mother Bernadette race against time to defeat the demon, the Rance family finds itself drawn into the conflict. With the pope's visit only days away, the church's enemy takes aggressive new moves. Angela confronts a familiar face from her past, and Kat considers a new future.
---
Additional reporting by Gordon Jackson. Banner art by Jim Cooke.