An Avatar clip shows how to wear sunglasses while riding a dragon. A Kick Ass poster showcases the Red Mist. Get your first glimpse of Doctor Who's next aliens and historical setting. Plus Caprica casting and Mad Max/Lovely Bones hints.

Mad Max: Fury Road:
Just how big is the set for this film? Says star Tom Hardy:
It's massive. It's enormous," he continued. "It's like turning a mountain upside down and pouring it through a sieve.
Any clue what that means? It sounds epic, anyway. [MTV]
Avatar:
Not sure if we've already run this clip or not, but if not, then enjoy:


G/O Media may get a commission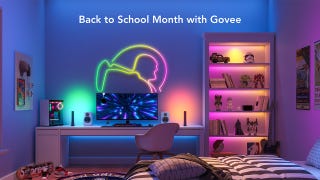 Back to School
Back to School Month with Govee Sale
And here's a clip we definitely haven't shown you before. I love Neytiri wearing her sunglasses to ride her dragon. [Cineplex via Slashfilm]


Weird nitpicks: After Stanley Tucci's creepy pedophile murderer tosses his victim Susie Salmon's charm bracelet in the water, but keeps the "house" charm. But then we see all the charms expand into ice sculptures or clouds or topiaries — but the house charm is still among them. Also, before Susie dies we see her reading Seventeen magazine, but after she dies, she fantasizes she's the cover girl in Groovy Teen magazine. Towards the end of the movie, Susie sort of inhabits the body of a goth girl who looks like Emly the Strange, and makes out with Emily's boyfriend, whom Susie loved before she died. Then Susie goes to heaven permanently, and we see Emily and her boyfriend spooning, with no mention of the weird ghost possession make-out that just happened. [Black Book Mag]
Kick Ass:
A new character poster gives us a better look at the Red Mist. Bigger version at the first link. [AICN via Cinemablend]
A few new details about Eli Roth's Transformers-meets-Cloverfield movie. It's set against an urban backdrop. He's tweaking the script at Quentin Tarantino's suggestion. He's going to do some visual-effects tests, the results of which will determine how he shoots the thing. It's very character-driven, and he has some actors he's dying to work with. [MTV]
Eclipse:
A new picture of your favorite couple, Edward and Bella. [SpoilerTV-Movies]
Doctor Who:
As you may have heard, the show was filming in Croatia this past week, with the Doctor, Amy and new companion Rory in tow. (And some are claiming that Rory is Amy's boyfriend — is he the new Mickey Smith?) The Croatia filming appears to be for an episode taking place in the past, judging from some of the costumes. But don't believe the British media chatter that it's an episode about vampires — it's almost certainly the Van Gogh episode that Richard Curtis wrote. More pics at the links. [Sky and Hello!]

Here are a bunch of promo pics from "The End Of Time," David Tennant's swansong, one or two of which we may have shown you before. They include your first look at the alien, shapeshifting Vinovicci. [BlogtorWho and BSCReview]

Meanwhile, Britain's Radio Times has another cast list for "End Of Time" part 2, which conflicts with the IMDB version. Notably, no Harriet Jones. Hmmm...
David Tennant - The Doctor
John Simm - The Master
Bernard Gribbins - Wilfred Mott
Timothy Dalton - The Narrator
Catherine Tate - Donna Noble
Jacqueline King - Sylvia Noble
June Whitfield - Minnie Hooper
Claire Bloom - The Woman
David Harewood - Joshua Naismith
TRacy Ifeachor - Abigail Naismith
Lawry Lewin - Rossiter
Sinead Keenan - Addams
Alexandra Moen - Lucy Saxon
Karlo Collins - Shaun Temple
Teresa Banham - Governor
Barry Howard - Oliver Barnes
Allister Bain - Winston Katusi
Sylvia Seymour - Miss Trefusis
Pete Lee-Wilson - Tommo
Dwayne Scantlebury - Ginger
Joe Dixon - The Second
Julie Legrand - The Partisan
Brid Brennan - The Visionary
Krystal Archer - Neys
Lachele Carl - Trinity Wells
Paul Kasey - Ood Sigma
Ruari Mears - Elder Ood
Silas Carson - voice of Ood Sigma
Brian Cox - voice of Elder Ood
Nicholas Briggs - voice of Judoon
Caprica:
This Battlestar Galactica prequel just cast another actor to play William Adama — no, not the future Admiral, but his grandfather. Aleks Paunovic will play the father of Joseph Adama and grandfather to little Willie in some flashback scenes, and he'll be a recurring character. Paunovic already appeared on BSG, playing Sgt. Fischer. [Aleks Paunovic via Battlestar Blog]
Lost:
A deserted area of Hawaiian rainforest hides a new camp which has been set up for this show's sixth season. It doesn't look like much, though. More pics at the link. [SpoilersLost]
[gallery 5420316]
Another new set — a ship of some sort, or rather part of one. It's apparently designed so they can rock the deck back and forth and make it look like the ship is caught up in a huge storm. And considering that some prisoner types were hanging around in baggy brown clothes, it may be the Black Rock. More pics at the link. [SpoilersLost]

Jose Yenque tweeted that he's joining the cast of this show. [Twitter via SpoilersLost]
Also, Fionnula Flanagan told an Irish talk show she'll be back for two episodes as Eloise Hawking, not surprisingly. [SpoilersLost]
Fringe:
The cast reveals the names of the Observers, and discusses their significance. [Fringe Television]

Meanwhile, I'm hard-pressed to tell exactly what's going on in this new set video. I think Anna Torv is being blown across a parking lot by some mysterious force, but hard to say. There are seven more videos from the same person under this YouTube account. I do like one commenter who says the intrepid fan making these recordings should shave his/her head and wear a fedora. [Anon120409 on Youtube]


And here's a sneak peek and "scenemaker" for Thursday's new Walter-and-William episode. [FringeRus]


Supernatural:
The show is casting one of the Four Horsemen for the episode "My Bloody Valentine:
[FAMINE] 50 to 80 years old... He is one of the Four Horsemen of the Apocalypse. He is withered, weak, raspy. This character is a creepy and destructive old man filled with a voracious hunger...GUEST STAR

[CUPID] 30s to 40s, doughy, out of shape, naked, his humorously loving character greets everyone with enormous bear hugs that almost break their ribs. He is overflowing with love and positivity to an almost humorous and narcotic degree (think Will Farrell in "ELF" sptv050769)...GUEST STAR
Also, Julie McNiven says that when Anna goes back in time and tries to kill baby Sam in episode 13, it's for the best reasons:
Everything Anna does is motivated by wanting to do the right thing, wanting to do what she feels is going to keep this apocalypse from happening. I see Anna as always doing what she thinks is right and she's very strong about that and doesn't want to hear anything otherwise.
And she says there's some great hand-to-hand combat and throwdowns in the episode, and hints that Anna does actually survive to try and kill more babies in the future. [AOL]
There will be a "high octane" second series of this British remake at some point, but no date yet. And here's what happens:
The series picks up moments after the thrilling cliff-hanger to the first series and the survivors are now struggling not just with the difficulties of day-to-day life amidst the ruins of the post-virus apocalypse but also with the threat of other emerging communities and the machinations of the sinister Lab.

As the series begins, Abby is being held by Whittaker and Fiona at the Lab. There, she learns that the scientists have avoided infection and are looking desperately for a vaccine which they believe her unique immune system alone will generate.

Meanwhile, the family races to save Greg's life as he lies dying from a gunshot wound. Drawn into a burning hospital by their search for the necessary medical equipment, Al and Anya are caught in an avalanche of rubble as the building collapses around them. Tom is faced with the stark challenge of rescuing his friends from a seemingly insurmountable disaster, with only Sarah and Naj to help him.

Characters returning for this high-octane second series are Abby, a devoted mother with a missing son; Greg, a loner, hiding the pain of his past; Anya, a doctor who has seen too much; Al, a playboy who becomes a surrogate father to the young and headstrong Najid; Sarah, a hedonist used to getting her own way; Tom Price, handsome, dangerous and a high-security prisoner before the virus hit; and Samantha Willis, the last surviving member of the British Government.
V:
So just who are the Visitors? Laura Vandervoort explains that they're basically Canadians. Also, she says her character is definitely somewhat evil, but she's not sure how much yet. [Multipleverses]
FlashForward:
Apparently the reason why the show took a week off was simple: Major, huge developments happen in the episodes that were going to be episodes 15 and 16, and the network looked at those scripts and decided they should be episodes 13 and 14 instead (so, less treading water.) And it's not clear whether the original episodes 13 and 14 were scrapped, or just retooled to appear later in the season. Also, the biggest reveals of the season happen in the next two episodes, 11 and 12, says David S. Goyer. [EW]
Chuck:
Episode 3x11 will be "Chuck Vs. The Final Exam." [ChuckTV]
And one more new promo reveals that we'll be seeing a "Whole New Chuck." He's a reluctant spy no longer.


Sanctuary:
In next week's episode, "Penance," Michael Shanks guest stars as an abnormal named Jimmy who has a special David Cronenberg-esque pouch in his stomach, which he can use to smuggle things for the Sanctuary — including, in this case, a dangerous abnormal. Some bad guys get involved, and he's forced to go on the run with Kate, leading to a big secret for the two of them being revealed. And then in the following week's "Sleepers," Will and Magnus are in Mexico looking into some missing teenagers, and they run into vampire Nikoka Tesla, who's up to no good. [Sci Fi Wire]
Additiional reporting by Mary Ratliff.