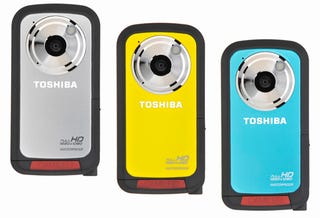 Only a year ago did Toshiba say that making a camcorder waterproof jacks the price up by close to 200 per cent. Good on them then for launching their first waterproof and weather-resistant model for the equivalent of $185.
Pricing it smack-bang alongside Sanyo's Xacti range of camcorders, the Camileo BW10 shoots video in 1080p on the MP4 format, and photos up to a 5MP resolution. The ISO range goes up to 1600, and while there's no optical zoom it has a digital zoom of 10x for both video and still photos.
It can withstand shooting up to 2m of water, and weighs 114g. The LCD screen is 2-inches (comparable to most of the Flip camcorders—which aren't waterproof), and can take SD/SDHC/SDXC cards up to 64GB capacity.
So far only UK pricing has been confirmed, but if Toshiba launches the Camileo BW10 in the US you'd be looking at around $185 with a straight conversion of the £130 UK pricing. On sale June.
Toshiba UK today announces the launch of the new Camileo BW10, the first-ever Toshiba camcorder designed for sports, action and underwater use. Designed to withstand water, snow, rain or dust, the stylish, BW10 is the perfect companion for adventurous holidaymakers, water sports enthusiasts or families simply looking for an affordable and robust camcorder – capturing full 1080p high definition (HD) footage in the most challenging of conditions.

Outdoor fun – wherever you are, whatever the weather
The Camileo BW10 removes the restrictions of filming in or around water. Whether you're enjoying fun days out at the seaside, filming tropical fish while snorkelling, or capturing ski trips in maximum resolution, the Camileo BW10 delivers 1080p Full HD video at an affordable price. For style-conscious users, the BW10 is also available in three colour variants – yellow, turquoise and silver.

Waterproof to two meters deep with full underwater operation, the BW10 is capable of delivering high definition images in a wide range of environments, and in high levels of humidity. An exterior rubber cover also protects against mechanical shocks, dust and sand, making the Camileo BW10 an ideal companion for action, beach or desert-based holidays. A portable and lightweight design also means the BW10 easily fits into a small pocket or bag – ready for whenever users want to shoot.

High quality video clips and stills
Impressive clarity and sharpness are provided thanks to 1920x1080p Full HD video recording, capturing images at the highest resolution available. Image stabilisation counters turbulent shooting conditions to provide smoother handheld shots, and a 10x digital zoom gets users closer to the subject.

A quick, two-button operation enables quick, easy switching between shooting video and 5MP still photographs, and integrated face detection technology allows users to take better portraits by automatically enhancing the exposure and colours of up to twelve faces in a single frame. A maximum ISO speed of 1600 also enables the CAMILEO BW10 to take great shots in more challenging ambient light conditions.

Share your experiences
The Camileo BW10 is compatible with SD cards up to 64GB in capacity, providing enough storage space for up to seven hours of Full HD video content[1]. Users can enjoy footage immediately after capture on a sharp 5.1cm (2.0") LCD screen, and integrated HDMI® connectivity allows images to be played back on HD ready TVs. For instant sharing of videos with family and friends, the Camileo BW10 also features dedicated YouTubeTM functionality, enabling users to upload videos to the web at the touch of a button.

The Camileo BW10 is available from the end of June 2010, with a Typical Purchase Price (TPP) of £129.99.

Facts & Figures
· Video resolution: up to Full HD 1920 x 1080 (30fps)
· Video stabilisation
· Still pictures: up to 5MP
· 5MP CMOS image sensor
· Sensitivity up to ISO 1600
· Card slot: SD / SDHC / SDXC up to 64GB
· Digital zoom: 10x for video and still
· 2m waterproof recording
· Weight incl. battery: 114g
· Size: 22 mm x 55 mm x 107 mm
· LCD monitor: 5.1 cm (2'')
· File formats: MP4 (video), JPG (still), AAC (audio)
· Connectivity: HDMI®, USB 2.0
· Camileo Uploader software for easy upload to YouTubeTM.
· PictBridgeTM function for photo printing
· Action mode with 10s self timer