Winter may be coming — but April feels like a long way off. We can't wait for the return of HBO's Game of Thrones series, to see how all of the insanity of A Clash of Kings translates to the screen.
To help us survive the long waiting, we've gathered some of the coolest, most creative and most thrilling Game of Thrones fan art from around the Web. Because when you play the game of thrones, you'd better be made of win. Warning: A few images might be NSFW.
Click these images to enlarge and scroll through them, or right-click and select "open link in new tab."
MLP vs. The Last Dragon, by Megan Ferguson
G/O Media may get a commission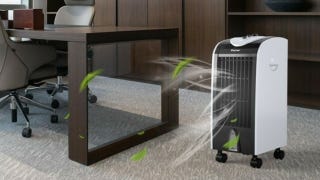 Save $10
Evaporative Portable Air Conditioner Cooler with Filter Knob
The North by Kali Ciesemier
Daenerys by Grant Gould, via Fanpop
Game of Thrones meets Iron Man, by way of Princess Bride. By Michael Dialynas, via Comics Alliance and Buzz Feed
Ned Stark, Depressing Meteorologist, by Fansieto. Via RedBubble
Tyrion by Phil Noto, via EnderZero.net
Game of Thrones chalk coffee ad, via Sticks Stones and Herringbones and Geek of the Day
Brienne of Tarth by Tijuana Picnic/Gogopicnic
Nouveau Cersei by Elisa Poggese via Robot 6
A Song of Ice and Lemoncakes by ~Dragoninstall on Deviant Art
Daenerys and Khal Drogo, via Tristyn Pease Thing Blog
Bran and Hodor by Joel Christian Gill/Roaches Have Wings.
Arya by Maré Odomo, art for a Game of Thrones zine.
Cover art by Rory Jas at Deviant Art, via Spicy Banana
"A Mind Needs Books like a Sword Needs a Whetstone" by Grant Gould
Rickon and Shaggydog by Burton Durand
You Know Nothing Jon Snow by Anii at Squid Salad, one more at the link.
Game of Thrones characters by Chris Bishop — prints are for sale
Throne of Games by AlecFritz on DeviantArt
Khal Drogo by Anna Stępień/SnowApples
Jon Snow by Anna Stępień/SnowApples
Khal Drogo and Daenerys by ilias kyriazis
Daenerys by Tei Iku via Fuck Yeah Game of Thrones Art More here.
Ned Stark by Douglas Holgate/House of Skulduggery
Jon Snow, via Tristyn Pease Thing Blog
House Stark by LaurBits, via Fuck Yeah Winterfell
Daenerys by Gela/Space Fish Room
Cutesy versions of House Mottos by Renaud Forestié via The Uniblog. More at the link.
Your Nice New Outfit: Daenerys by Phil Noto
Game of Clones by Geekleetist, buy the print here.
Jon Snow by JMichek
Battle of the Trident by Jayson Mondala, more at the link.