Here's the deal on the Palm Treo 755: It's a 750 generation variant, running on Palm OS and Sprint instead of Windows Mobile and AT&T/Cingular/Whatever. That means its got that Sprint EVDO we know and love, even if it is at slightly slower Revision 0 speeds of 400-600 kilobits/sec.
On the hardware side of things, the phone has an Intel Xscale 312MHz proc, 128MB or RAM, and a 320x320 screen (instead of the Samsung 300MHz chip and the 240x240 screen of the Treo 750), and will come in blue and dark red in that silky velvechron finish I can't stop manhandling. On the software side of things, Palm's shipped the phone with Microsoft Exchange ActiveSync, Bejeweled, IM for AIM, Yahoo! and MSN, and some unique Google Map integration.
G/O Media may get a commission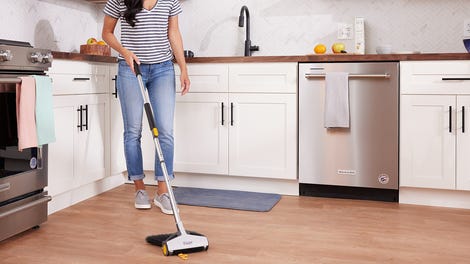 BOGO 50% Off
Flippr - BOGO 50% Off
Google Maps tweaks are...
address book integration. Basically, you can click the "Map" button on a contact entry with an address inside, and awaaaaay you go to Google Maps. From there, you can route to and from the address with a few more keystrokes. The Google Maps implentation does a good job of using the EVDO speed to update the map's data. And it shows the traffic compatible software. A shame they don't put GPS in this guy. (Real like the Nokia N95 or fake like the Helio and Verizon phones.)
Available for $280, middle of May, with one of those two-year ball & chains.

Pretty lucky that Palm lovers get the OS of choice attached to my favorite cellular data network.
Video From [Dan@uneasysilence]