Coming fresh off the heels of a site-wide Twitter redesign just a few weeks ago, it looks like an even bigger change is in the works, according to Mashable. Apparently, a select few are being made privy to a new Twitter profile design that looks like the bastard child of Pinterest and Facebook's unholy union.
First spotted by Mashable, the new design gets rid of the familiar, if not occasionally frustrating reverse chronological timeline in favor of a grid of tweets that recalls Pinterest's jumbled boards. What's more, Twitter's version of a cover photo has been stretched across the top of the page in a manner almost identical to Facebook's current setup. The most striking change, though, is a now majorly enlarged profile photo that's been moved to the side of the page, making these new profiles seem, at first glance, like a generic mashup of Facebook and Google+'s own.
Of course, just because Twitter is testing a new design doesn't necessarily mean that we'll be seeing these changes roll out site-wide any time soon. As we've learned with Facebook, design tests often remain just that—tests. We've reached out to Twitter to ask if these new changes might have any staying power, and we'll update as soon as we hear back. [Mashable]
G/O Media may get a commission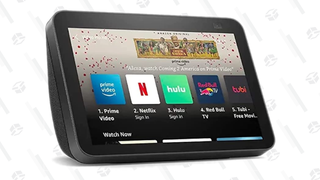 Update 4:55pm: Twitter's reps declined to comment regarding any profile design changes.