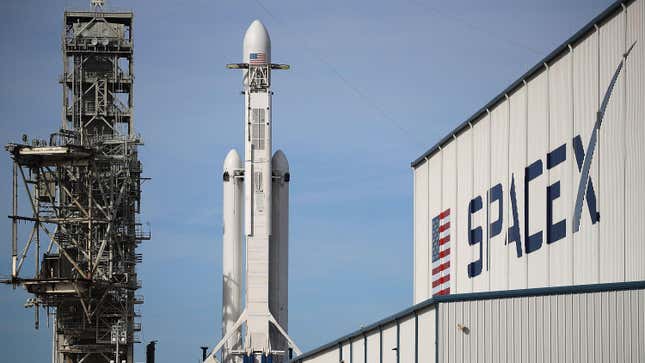 As private space companies have ramped up production and launches in the past several years, they've also been unwittingly putting a target on their back. U.S. government agencies are warning the private space sector that they are in the crosshairs of foreign intelligence agencies.
Astronomers Could Soon Get Warnings When SpaceX Satellites Threaten Their View
The warning comes from the FBI, the National Counterintelligence and Security Center, and the Air Force this morning in a two-page bulletin. The bulletin says that foreign intelligence agencies could target company employees, contractors, or suppliers in order to obtain sensitive information on key spaceflight operations. These attacks may include cyberattacks, which the release says could be evidenced by unusual amounts of activity on companies' digital networks.
"We anticipate growing threats to this burgeoning sector of the U.S. economy," an unnamed U.S. counterintelligence official said, as quoted by Reuters. "China and Russia are among the leading foreign intelligence threats to the U.S. space industry."
The warning is a push from Washington to secure the burgeoning private space agency. Fortune reports that commercial space revenue grew 7.9% in 2022 from $396.2 billion to $427.6 billion. The entirety of the space economy meanwhile is set to grow 41% over the next five years from $546 billion in 2022 and could grow to a whopping $1 billion by 2030 according to McKinsey & Company. To secure this investment, the three agencies encourage private space companies to contact the FBI and the Department of the Air Force Office of Special Investigations.
The warning comes after the European Space Agency fielded a cyber attack earlier this year. In a controlled experiment, hackers demonstrated that they could breach an ESA OPS-SAT nanosatellite in low-Earth orbit to gain control of the spacecraft's GPS, altitude control, and the onboard camera. Closer to home, however, images from NASA's Webb Space Telescope were infected with malware using a phishing email and a phony Microsoft Office attachment. Private space companies have not been without their hacks either. Belgian security researchers demonstrated how to easily hack a SpaceX satellite using a custom circuit board attached to a satellite dish on Earth.