Jacob Tremblay opening a box was the best thing in the first footage from Shane Black's The Predator. Fox showed a taste of the highly anticipated next entry in the scifi series at CinemaCon in Las Vegas, and while opinions will obviously be mixed, I was left very underwhelmed.
The trailer stars on Halloween in a typical suburb. Kids walking around, trick or treating. Inside one of the houses, a box has been delivered from Mexico. It's covered in tape and is kind of roughed up. A young boy, played by Tremblay, opens the box and pulls out what looks like a highly chrome version of a Predator mask. There's also a gauntlet, which he opens, and it gives off a red mist. He detaches a small piece that looks like a spaceship. It lights up and he begins to play with it like any kid would.
However, as he's doing this, there are real world consequences: It seems opening the tech triggered a ship in space. It flies down to Earth, kind of in the same patterns as the boy is playing, and crashes into a field. Was he responsible? Who is he? We don't know.
Next we meet a sniper played by Boyd Holbrook. He's being interrogated about some kind of crash and claims he doesn't know anything. But, that's intercut with him approaching a crashed spaceship, opening it, and seeing, again, that same chrome Predator helmet. We quickly learn this man does know something and what he knows he sent to his son back in America. Probably not a good move.
The trailer then kicks into a more montage-y section, with soldiers in the jungle, people working in a lab, and a character played by Olivia Munn somehow knowing about the Predators and saying they have done this on other planets. We learn that the sniper's team was wiped out, which sounds very much like the team in the original Predator film. A group of soldiers are hunting something... probably a Predator. They're laughing and cracking jokes. There are shots of a Predator running through the jungle, and another of one killing people in the lab; it ends with a joke about Munn's character knowing her way around a gun. Where did she learn? "America."
G/O Media may get a commission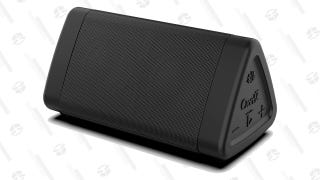 Save 31%
Oontz Angle 3 Portable Bluetooth Speaker
There was no big standout moment in the footage. No hero shot of the Predator or clear idea of what exactly is going on. We assume Holbrook's character sees a crashed ship, his team is killed, he sends his son evidence, the evidence brings down more Predators. Then, things go wild and soldiers are called in to stop the Predators, with the complication of scientists wanting to study them. Right?
Well, along with the footage screening at CinemaCon, Fox released this plot description:
From the outer reaches of space to the small-town streets of suburbia, the hunt comes home in Shane Black's explosive reinvention of the Predator series. Now, the universe's most lethal hunters are stronger, smarter and deadlier than ever before, having genetically upgraded themselves with DNA from other species. When a young boy accidentally triggers their return to Earth, only a ragtag crew of ex-soldiers and a disgruntled science teacher can prevent the end of the human race.
So yeah, I was kind of right.
As always, it's important to remember the movie isn't out until September. There's plenty of time to promote a clearer version of what the film is. And writer-director Black, reteaming with his Monster Squad co-writer Fred Dekker for the first time on the big screen, always inspires confidence. His movies are usually hard to compress or explain in two minutes. So, I'm holding out hope. But, as a first unveiling to the world, I wish this was better.
The Predator opens September 14.