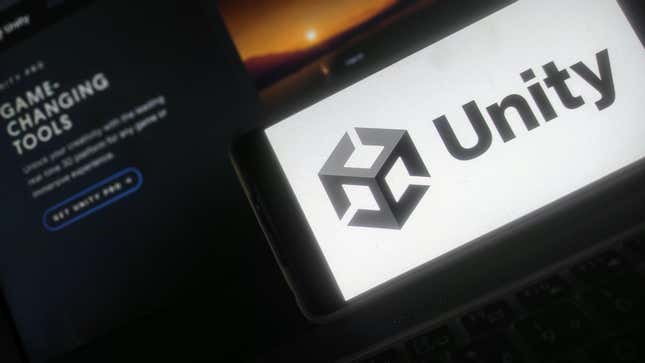 Less than a week after the cross-platform game engine maker Unity announced its big plan to charge developers based on the number of installations and revenue, the company said it's rolling back its plans to some extent, though developers may already be too burned to even consider what limp olive branch the company could be offering.
This Runtime Fee was first proposed on Sept. 12th and would force fees on any project that makes $200,000 in a 12-month period or has 200,000-lifetime game installs for those who subscribe to the cheaper engine subscription plans. Those companies paying for the higher-end Unity Pro and Unity Enterprise plans had to reach either $1 million in revenue or 1 million lifetime installs before they paid a fee.
On Sunday, Unity posted a tweet saying "We apologize for the confusion and angst," regarding its big plan to force devs to pay more when they succeed. Unity said it was "listening" to the critique, adding it would share an update in a few days describing its new proposed runtime fee. The same notice was plastered at the top of the page where the company first announced its fee plans.
Unity's plans to skim additional money off the top from Unity developers did not exactly engender goodwill with the people who put the software to use. Those subscribing to the cheaper Unity Personal or Unity Plus plans would have been forced to pay $.20 for every game installed past the threshold. Those larger companies paying more would have to fork over between $.02 and $.125 for every install. Rust developer Garry Newman, who developed his game in Unity nearly 10 years ago, said his Facepunch Studios would owe the company $410,000 based on the number of installs. Reports showed that Unity would charge per install, even if it was the same user simply re-installing the game, or installing on a separate device.
The plan was so haphazard and so detrimental to developers, that many openly called for those working in Unity to drop their subscriptions and find another engine to develop under. Slay the Spire developers Mega Crit said the company had been developing a new game for more than two years under Unity. The devs threatened to move to a new engine "unless the changes are completely reverted and TOS protections are put in place."
The news kept getting worse last week, as reports showed Unity execs including CEO John Riccitiello had sold thousands of shares of stock in the weeks ahead of the fee announcement. Riccitiello had reportedly sold more than 50,000 shares in his company in 2023 alone. This is the same guy who in an interview last year called devs who didn't over-monetize their games "the biggest fucking idiots." Just after the announcement, Unity's stock price took a dive off a cliff going into that Thursday, though it recovered slightly the following day. The company also received multiple death threats that led Unity to close two of its offices in Austin, Texas and San Francisco, California.
There's no word on what changes Unity plans to make to its fee structure, but for many devs, the damage is already done. Newman wrote on his company's blog that Unity broke their trust and that any sequel to Rust won't be running on Unity.
"We used the engine because you pay [upfront] and then ship your product," Newman wrote. "We weren't told this was going to happen. We weren't warned. We weren't consulted… We can see what they can and are willing to do. You can't un-ring that bell."