Anya Taylor-Joy talks New Mutants reshoots. Writer Gary Dauberman discusses bringing a peculiar ritual to It: Chapter 2, and looks like we're getting an R-Rated Swamp Thing. Plus, Felicity gets a truly, truly outrageous look in Arrow, and a new look at Supergirl's space-y new costume for Kara. To me, my spoilers!

Scary Stories to Tell in the Dark
Speaking with Rue Morgue, creature performer Javier Botet revealed he has "a little role" in Scary Stories to Tell in the Dark.
[Guillermo del Toro and I are] going to work together again because he's producing Scary Stories to Tell in the Dark, and I have a little part in that. I can't say—like in It: Chapter Two, I can't tell you what I'm doing there either.
---
Warning
Deadline reports both Lana Condor (To All The Boys I've Loved Before) and Benedict Samuel (Gotham) have joined the cast of the upcoming sci-fi film Warning in undisclosed roles. 
G/O Media may get a commission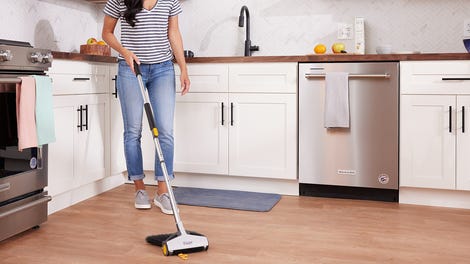 BOGO 50% Off
Flippr - BOGO 50% Off
---
Devastation Class
Stampede has purchased the film rights to Glen Zipper and Elaine Mongeon's yet-to-be-published novel, Devastation Class. According to Deadline, "the novel follows an unlikely group of young cadets forced to mutiny aboard a revolutionary starship to save themselves from an annihilation force of invading aliens. When their escape transports them to a reality they don't recognize and reveals unimaginably terrifying secrets, they must fight their way home to save not just everyone they love but also humanity itself. Standing in their way is an insurmountable enemy, a mystery eons in the making and the fabric of time and space itself."
---
New Mutants
In a recent interview with Collider, Anya Taylor-Joy stated the reshoots on New Mutants will restore the film's original vision.
I don't find [the delay] frustrating because when the film comes out, we want it to be something that will make the fans truly happy. Taking the time to do it, whilst people might find it a little bit frustrating to wait for it, when we deliver it, it's going to be fantastic. That's the most important thing. And getting the opportunity to play the character again is just great.

I think we're making the movie that we set out to make, in the beginning. That's what we're going to end up delivering to people. It feels like the movie we all signed up to do, which is good.
---
It: Chapter 2
Speaking with Cinema Blend, screenwriter Gary Dauberman confirmed It: Chapter 2 will retain the infamous "Ritual of Chüd" sequence from the novel, which includes a joke-telling contest with Pennywise.
The Ritual of Chüd is challenging, but it's such an important component to the book that we had to address it. That stuff is difficult to balance, but because (director Andy Muschietti, producer Barbara Muschietti and I) worked with each other before, when I'm writing pages and all that stuff it becomes more of a conversation and less like, 'Hey, here's what I did.' It's sort of organic; it's really kind of just chipping away at the stone and trying to find the most focused, accessible way into some of more metaphysical aspects of that book.
---
The Conjuring 3
According to producer Peter Safran, The Conjuring 3 is currently scheduled to enter production next year.
It's actually coming along great. David Lindsay Johnson is working on the screenplay, and I feel pretty confident they will have that one up and running next year.


---
Halloween
Speaking with Forbes, producer Jason Blum stated "he'd love to" make sequels to the upcoming, vocally anti-Halloween II-VIII demi-reboot.
No, I think that got a bit screwed up. I'd love to do sequels, and I hope we do a sequel and we will do a sequel if the movie performs. We're not going to decide if we do a sequel or not until we see the reaction to this movie. But I really hope to make it.
---
Scream/I Know What You Did Last Summer
In the same interview, Jason Blum stated he's also interested in making more entries in both the Scream and I Know What You Did Last Summer franchises.
I would like to do both of them, but it's a rights situation with all those movies. It's very tangled and very complicated. It's one thing to say you want to do them and it's a whole other thing to get to actually do it.
---
Mara
Olga Kurylenko learns the four stages of hag attacks in a new clip from Bloody-Disgusting.
---
The Cove
Deadline reports the CW is now developing an hour-long family drama from Robert Zemeckis and former Vampire Diaries executive producers, Chad Fiveash and James Stoteraux. According to the site, "the soapy, swashbuckling adventure" series follows estranged sisters reuniting at a Caribbean resort after their father's death, "only to discover the sun-drenched paradise is hiding many secrets, including the missing treasure that was their father's obsession and may ultimately hold the key to eternal life."
---
Swamp Thing
In a separate interview with /Film, Gary Dauberman stated the upcoming Swamp Thing TV series will go "hard R."
We always set out to make Swamp Thing as hard R as we could and go graphic with the violence, with the adult themes and make it as scary as possible. Because we're doing it through the DC streaming service, they really pushed us, although they didn't have to push hard, for us to go as extreme as we could. We really took our inspiration from the Alan Moore run in Swamp Thing, this landmark I think run. Fans of that series will know it gets pretty weird and extreme and scary. We really wanted to live up to that standard that Moore set up back in the '80s.
---
Arrow
Felicity has amazing Jem & the Holograms-inspired hair in new pictures from the season seven premiere, "Inmate 4587." Head over to Spoiler TV for more.
---
The 100
Showrunner Jason Rothenberg shared a couple behind-the-scenes photos on Twitter.
---
Killjoys
Spoiler TV also has images from the season four finale of Killjoys, "Sporemageddon." Click through to see the rest.
Aneela brings the Jaqobis brothers into Greenspace to defeat the Lady.


---
Daredevil
Jessica Jones, Luke Cage, and Iron Fist respond to Daredevil's season three teaser on Twitter, in their own Twitter-y ways.
---
Supergirl
Finally, Supergirl gets into a sledgehammer fight (while wearing a brand-new, helmeted super suit) in a new promo for season four.
---
Banner art by Jim Cooke.