Alex Garland's new tech-mystery show is officially happening. Mark Ruffalo teases how Bruce Banner will handle Thanos' arrival. An HBO executive drops a hint that Game of Thrones' final episode could be a bit of a bloodbath. Plus, new looks at what's in store for The Flash and iZombie, and a creepy The X-Files clip. Spoilers now!

Nightwatch
After recent reports alleged Edward Ricourt would be writing the script, That Hashtag Show claims that Luke Cage showrunner Cheo Hodari Coker is now attached to script Spike Lee's take on the obscure Marvel character.
---
Avengers: Infinity War
Mark Ruffalo told Screen Rant that The Hulk is "mightily impressed" by Thanos, prompting Bruce Banner to become the team's expert on all things concerning the Mad Titan.

Banner knows more about Thanos than probably anybody and he's really trying to impress on everybody how dangerous he is. It's a little bit of a Chicken Little (scenario). He comes in screaming bloody murder… He's seen what damage he can cause and how powerful he is and the entire group is in disarray so he's also getting caught up on what's happened here and is trying to get them to transcend their differences and impress upon them how much danger they're actually facing.

The Hulk is also mightily impressed by Thanos.
---
Game of Thrones
Speaking at a conference in Israel recently, HBO SVP of drama Francesca Orsi said that there was a lot of sadness in the show's readthrough of the final episode:
It was a really powerful moment in our lives and our careers. None of the cast had received the scripts prior, and one by one they started to fall down to their deaths. By the end, the last few words on the final script, the tears just started falling down. Then there was applause that lasted 15 minutes.
G/O Media may get a commission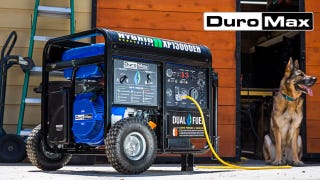 Black Friday Sale
DuroMax Generator Sale
Whether that's a flowery descriptor or a hint that characters actually drop like flies in the final episode remains to be seen. [THR]
---
Devs

FX has officially ordered a pilot for Devs, Alex Garland's series about software developers. According to Coming Soon, the show concerns a developer named Lily investigating the cutting-edge tech company she believes is responsible for the disappearance of her boyfriend. In a press release, FX President Eric Schrier stated:
Devs is a captivating series from Alex Garland, building on his track record of groundbreaking work that challenges our notion of humanity amid the seemingly boundless promise of technology. We're all the more thrilled that Alex will direct and executive produce with our partners at DNA TV and Scott Rudin Productions.
---
Wynonna Earp
Lost Girl and Dark Matter actress Zoie Palmer is set to guest-star in the show's third season as Jolene, "a fun-loving friend who enjoys karaoke, baking for her best buddies and creating mayhem wherever she goes. She's also smart, knows a secret or two and if you don't watch out, she'll either steal your partner or your heart." [Spoiler TV]
---
Legends of Tomorrow
When the Death Totem possesses Sara, Constantine returns to the Waverider in the trailer for next week's, "Necromancing the Stone."
---
The Flash
Team Flash encounters a gravity-manipulating metahuman in the trailer for next week's "Null & Annoyed."
---
Ash vs the Evil Dead
Ash and the Knights of Sumeria search for the lost pages of the Necronomicon in the promo for next week's episode, "Unfinished Business."
---
iZombie
As Fillmore Graves busts up Human/Zombie Night, Liv is still high on the brains of a rom-com fanatic in the trailer for next week's, "Brainless in Seattle, Part II."
---
Westworld
A promo for HBO's spring programming features a few brief snippets of footage from season two.
---
The X-Files
Finally, organ-harvesting doctors lick a patients pancreas in a creepy clip from tonight's episode, "Nothing Last Forever," courtesy of TV Guide.
---
Banner art by Jim Cooke.