Super Typhoon Yutu continues to tear across the western Pacific after striking the tiny Northern Mariana Islands on Thursday local time. The U.S. commonwealth now faces a major cleanup after a direct hit from one of the strongest storms on record to make landfall anywhere in the world.

Super Typhoon Yutu struck the two islands of Tinian and Saipan, home to most of the tiny commonwealth's roughly 53,000 residents. It brought maximum sustained winds of up to 180 mph with gusts above 200 mph. That made it the equivalent of an extremely strong Category 5 hurricane, which is classified as any storm with winds in excess of 156 mph.

"We just went through one of the worst storms I've seen in all my experience in emergency management," Homeland Security and Emergency Management special assistant Gerald Deleon Guerrero said in a statement.

As it moved away from shore and day broke, the damage has become clear. The islands have been transformed by the storm as infrastructure was ripped to shreds by Yutu's powerful winds.

G/O Media may get a commission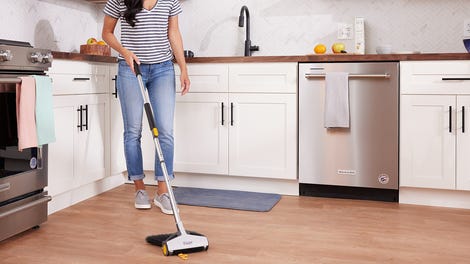 BOGO 50% Off
Flippr - BOGO 50% Off
"We do not have power, and many, if not most, telephone poles were blown down," Ashley Beck, a resident of Saipan, told Earther. "Even concrete poles were damaged. I just drove along the two major roads in Saipan, and there are long stretches of road where every single telephone pole is down. It took months for some parts of the island to get power after the last major typhoon, Soudelor, so that is the concern now."
Beck rode out the storm at a friend's concrete house, which escaped damage. But as Yutu inched toward landfall, she said the falling pressure caused items in the house to shake. The howling wind was "extremely loud" for five hours.
President Trump declared a disaster ahead of the storm's arrival. That allowed the government to preposition supplies and get ready, something crucial for any storm but particularly one that hit islands in the middle of the Pacific where resources are limited.
With 180 mph winds at landfall, Yutu is in rare and dubious company. Super typhoons Haiyan and Moranti are tied for the record of strongest landfalling storms ever recorded on Earth. The storms made landfall in 2013 and 2016 respectively with winds of 190 mph. Yutu clocks in at fifth on the list, trailing 1959's Super Typhoon Joan and the 1935 Great Labor Day Hurricane.
Yutu also follows an unfortunate trend of cyclones that have undergone rapid intensification. The storm went from a weak swirl of clouds to fearsome beast in a day earlier this week. It follows the path of other recent storms, notably Michael and Florence in the Atlantic and Willa in the eastern Pacific. Studies have shown more Atlantic hurricanes are rapidly intensifying, well, more rapidly. With warming oceans, which provide crucial fuel for cyclones, it's likely we'll see more rapidly intensifying storms in the future.
The super typhoon is continuing its march across the Pacific. There's not much in its way for the time being, and it's expected to gradually weaken in the coming days. But it could bring its wind and rain to Taiwan or Japan's outlying islands by the middle of next week.