Evernote has a new app called Scannable. It's takes a feature Evernote already had—digitizing paper documents—and makes it faster and more intuitive than ever before. Here's how to get it up and running on an iOS device, and the features that make it worth a look whether or not you already use Evernote.
Is AI Moving Too Fast? | Future Tech
The app itself will work on any device running iOS 8.0 or later. You don't necessarily need to connect an Evernote account, although there is of course the option if you need it. As yet there's no Scannable app for Android, though the Evernote app for Android does include a decent document scanning tool of its own (and you can get the same kind of functionality in the Google Drive app for Android as well).
By building a dedicated app, Evernote has put the focus on speed and quality. The new app picks up documents and gets them digitized at an impressive rate. The other difference is that you don't necessarily need to keep all of your new content inside an Evernote notebook. You can export the results of a scan to various places or even just save them to your camera roll.
Scanning documents
G/O Media may get a commission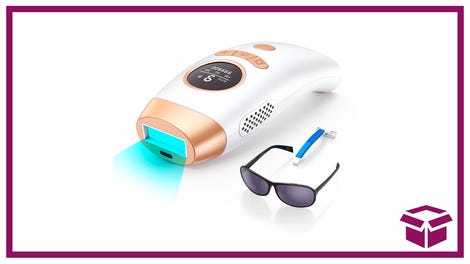 58% Off + Coupon
IPL Hair Removal Device
There's no messing around with Scannable. Launch the app and you're straight into capture mode. Point your iPhone at the document in question and the app locks onto it, captures the image, then looks for another match. This enables you to quickly plough through a multi-page document without pausing. All of the captures you've taken so far appear underneath.
Tap on any captured image thumbnail to see it, then tap again if you want to crop, rotate or delete the picture. Scannable's integrated technology seems to be very accurate based on our testing, so most of the cropping, brightness and contrast work will have been done for you. Note that this is an app very much geared towards digitizing documents and making text sharp; you don't want to be archiving precious old photos with it.
Scannable gives your captured image(s) the name Scannable Document, but you can tap on this if you want to edit it (probably wise if you need to remember what it is afterwards). With that done, it's on to the Share menu, which you can access by tapping the white tick to confirm you've finished capturing, and then the small blue icon.
Exporting documents
There are a variety of options here: Mail, Message, Evernote, Export and Camera Roll. Tap More to use one of the integrated iOS sharing options (Airdrop, Twitter and so on). If you're digitizing paper documents so you can throw away the originals, then your best bet is either Evernote or Camera Roll, though the Export option reveals a number of useful app alternatives connected through iCloud.
With the exporting taken care of, you can tap Start New to go right back to the image capture stage. It's here than it becomes clear why Evernote decided to spin this out as a separate app; it's fast and functional and strips away all of the unnecessary clutter. If you do use the Evernote export option then your captured documents appear in the selected notebook as PDF files. Anything saved to your camera roll, meanwhile, shows up as a JPG.
There's one other feature that's worth mentioning, which is the business card scanner option. Scannable automatically recognizes business cards and can even import the details into LinkedIn (connect your account through the settings screen). Scannable also integrates tidily with the ScanSnap scanner to make it easier to get large documents into the cloud.