An interesting side effect of the anxiety about the decline of the hardline has been these beautiful widget-y desktop phones that do amazing things you always wanted phones to do, like the Verizon Hub here.
The challenge for it is twofold: Cellphones do all of these amazing things and go with us everywhere, and it literally costs as much as a cellphone. It's $199 after a $50 rebate and has a $35-a-month service fee with a two-year contract. Why the hell would you have both?
Descended from the ages old Verizon One, the Verizon Hub has actually been baking for a long time—Dave Zatz saw it in July 2007 and thought it was fantastic, with a "gorgeous display."
G/O Media may get a commission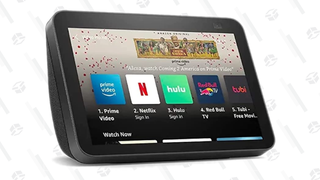 You hook it up to broadband and you can do all of the useful things you typically do with widgets: Traffic, weather, directions, easy pizza ordering and watch trailers for movies. One unique neato aspect is that you can instantly add contacts or calendar entries remotely, so if you wanna go to a strip club, you can schedule a late night "meeting" that your wife will see when she checks out the Hub. Plus, it has visual voicemail.
Sounds great, right? But, uh, how many of these five-years-too-late pieces of awesome do you think they'll actually sell?
FEBRUARY 1: VERIZON WIRELESS REIMAGINES THE HOME PHONE

Innovative Verizon Hub Helps Manage Busy Lives and Helps Users Stay Connected to Family and Community

BASKING RIDGE, N.J. – In a dynamic move sure to rattle devotees of plain old home phones, Verizon Wireless will introduce the new Verizon Hub on Feb. 1. Only Verizon Wireless can launch a new touch screen home phone system designed to replace old-style home phones with a souped-up home communications system, bridging wireline and wireless connectivity in one simple service, that runs on any broadband connection – whether supplied by Verizon FiOS Internet or DSL or any other high-speed service provider.

Families with active lifestyles and virtually anyone who wants to stay current and connected need a tool that helps manage their communications, contacts and calendars simply and smartly – all from one easy screen. The Verizon Hub is poised to help pave the way for people to stay in touch and up to date with the information they need to navigate their increasingly busy days and nights.

"The Verizon Hub reinvents the home phone system that's been centered on your kitchen counter for years. We're bringing huge new functionality to a common household device that will unlock its true potential. And in the process, Verizon Wireless is updating the tools busy families can use to manage their lives," said Mike Lanman, vice president and chief marketing officer at Verizon Wireless. "The Verizon Hub is going to change the way you think about what you want and need your home phone to do. Whether you're thinking about getting rid of your home phone or can't live without it, now is the time to try out the Verizon Hub."

The Verizon Hub uses your existing broadband connection, and it's quick to get it up and running. It will work with any open broadband connection from virtually any broadband provider – telecommunications or cable – anywhere in the United States.

Out of the box, the Verizon Hub will have all the calling features users expect from the most advanced home phones, plus visual voicemail and robust contact list management. Verizon Wireless has also added exciting messaging options, including text message calendar alerts and audible turn-by-turn directions delivered to Verizon Wireless phones from the Verizon Hub – with just a few simple taps on the screen.

Information will be at a family's fingertips, literally from an easy-to-navigate touch screen with clear icons on the Verizon Hub. Families will start and end their days with nuggets of customized information from the Verizon Hub:
· Check local traffic and weather in the morning before leaving the house
· Update your calendar and automatically receive a text when an appointment changes or as a reminder not to be late
· Get directions to the new site when the location for soccer practice is moved
· Find the number of the new pizza parlor to order a pie
· Preview the trailers from an upcoming movie that you might want to take the family to over the weekend, then purchase tickets using the Verizon Hub

Families on the go can access all the information and functionality of the Verizon Hub remotely from a companion Web site, even adding calendar entries for family members and inputting new contacts from the Web site. The home-based Verizon Hub is instantly updated.

Verizon Wireless customers who bring the Verizon Hub into their homes can connect to popular applications including VZ NavigatorSM and Chaperone®, as well as incorporate their wireless devices through text, picture and video messaging between wireless phones and the Verizon Hub. New and exciting V CAST content will also be available on the Verizon Hub, and when not in use, the Verizon Hub doubles as a digital picture frame displaying all of your favorite photos.

More details on the Verizon Hub, including pricing and service plans, will be available in the coming days. For more information on Verizon Wireless products and services, please visit www.verizonwireless.com.

About Verizon Wireless
Verizon Wireless operates the nation's most reliable wireless voice and data network, serving 83.7 million customers. Headquartered in Basking Ridge, N.J., with 85,000 employees nationwide, Verizon Wireless is a joint venture of Verizon Communications (NYSE: VZ) and Vodafone (NYSE and LSE: VOD). For more information, visit www.verizonwireless.com. To preview and request broadcast-quality video footage and high-resolution stills of Verizon Wireless operations, log on to the Verizon Wireless Multimedia Library at www.verizonwireless.com/multimedia.
[Verizon]