The internet is abuzz today over a vague confirmation from Instagram creator Kevin Systrom that video is the next big frontier for the insular social network. And while that may sound like a logical evolution for some, it also sounds like a disaster-in-the-making.
Like so many other success stories of tech-centric products and services, the simplicity of Instagram has played a big part in its rise to fame. You open the app, take a photo, apply a filter, give it a caption, and upload it. Done. The entire process often takes less than a minute. When viewing the photos of others, you can quickly scroll through dozens of snapshots in your feed in the same amount of time.
Thinking about this process on Instagram with regard to video doesn't seem so simple. Let's assume that the average video would range between 10 and 30 seconds in length. That means that file sizes, even if optimized, are already going to be much larger, considering that the Instagram app currently uploads photos at a fairly small 612x612 pixels. And if Instagram wants to stick with their whole retro motif, how long will it take your phone to downsize and render a clip with a filter over it? And then that video has to be uploaded and processed on the Instagram servers. Supposing an upload would take a minute or two, that's a lot of time where a connection could cut out over a shaky connection and keep you entangled in your phone. And though video wouldn't change the process of viewing other peoples uploads, moving through your feed would take place at a much more glacial place, especially if video uploads became anything more than an an occasional event for users.
Technical and conceptual issues aside, there's also the matter of content. Will videos manage to entertain and captivate Instagram users in the same way? I think not. Most of these photos are barely interesting when left unedited. But you throw on a photo and sometimes you stumble upon an "oooh, shiny" moment. Accidentally making a photo look beautiful or come off as poignant isn't terribly hard. Video, with sound and constant movement and environment to consider, won't mask the reality of the situation, or the lack of a user's skill, quite so well.
And going deeper into the psychology of it all, part of what makes Instagram—at its best—so interesting is the mystery of it all. You're only given one split second to work with. It forces your imagination to come alive. Where are these people at? What are they doing? Who else is there? If you don't know the people in the photo, you might even start wondering what they're like. Photos can deceive, after all. But with video, much of that illusion is shattered. And let's be honest, illusion is an underlying ethos of Instagram.
G/O Media may get a commission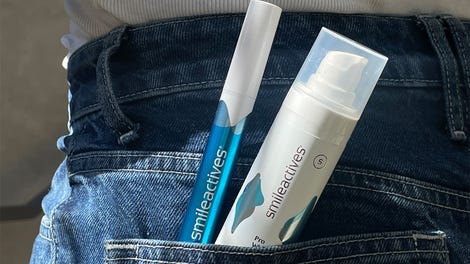 58% off
Whitening Powerhouse Pen & Gel Duo
Systrom says that he doesn't want to wait too long to add new features to Instagram, for fear of people pigeon-holing it as something that's one-dimensional. But when considering it does that one thing better that anyone else, is it so bad being one dimensional?
Image via Joel Johnson