The best place in the United States to sit and feel the ghostly presence of early 20th century science fiction is probably Clifton's Cafeteria in Los Angeles, which was the epicentre of 1930s pulp scifi.
Deadly Mississippi Tornado Kills More Than 2 Dozen | Extreme Earth
If there is a single city that must be associated with the Golden Age of Science Fiction it has to be L.A. While Chicago and New York were centers for pulp publishing and illustration in the early 20th century, a disproportionate number of the actual writers lived, wrote, and socialized in L.A. One of the suburbs North of L.A. is even named Tarzana in honor of past resident Edgar Rice Burroughs.
Most destinations for literary tourists are either authors' houses or localities featured in books. Because of the solitary nature of authors' labors there are few places I can think of that really represent actual literary scenes – especially for sci-fi and fantasy. 15 or 20 years ago I would have cited Forrest Ackerman's house in the Hollywood Hills as one of these nexus points, as it was a pilgrimage destination for all stripes of sci-fi fans and professionals and housed one of the greatest historical collections in the history of the genre. I actually had the amazing experience of visiting the "Ackermansion" when I was a teenager, and it was there I saw my first original pulp art, Harryhausen animation models, etc.
Since Ackerman passed away and the Ackermansion is now only a memory, I would currently promote Clifton's Cafeteria in downtown Los Angeles as one of the best places to feel the ghostly presence of early American science fiction. Although I love Clifton's super creamy heart-stopping mac and cheese, I don't go for the food - this place is all about history and atmosphere (and observation of eccentric old vine Angelinos, if you care).
G/O Media may get a commission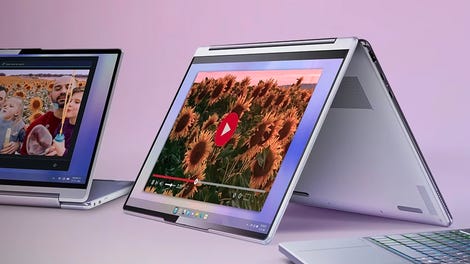 up to 70% off
Lenovo Spring Clearance
Clifton's is important in sci-fi history because it was the original meeting place for the Los Angeles Science Fiction League (LASFL), which was founded in 1934. The Brown Room in the back of Clifton's was virtually an imperial court of the masters, where gathered on Thursday nights many of the formative minds of science fiction and fantasy. A partial list includes: Ray Bradbury, Robert Heinlein, L. Ron Hubbard, Ray Harryhausen, Leigh Brackett, Forrest Ackerman, Henry Kuttner, Fredric Brown, Hannes Bok, and Jack Williamson, among many others. Many of these folks lived in L.A. full time while others lived there for a short time or were just passing through. The conversations in this court of imagination must have been wonderful – perhaps more so than the chicken fried steak.
The modern facade ain't as cool as the original.
I stop to eat at Clifton's whenever I can. Even outside of its significance to sci-fi history, it is a bizarre and outrageous place to be. Opened in the mid-30s, most of the restaurant is decorated like a surreal artificial redwood forest, with log cabins, taxidermy animals, and two story-tall fake trees:
Margie and Banjo Chris dining. In the back on the top right you can see the little door to the Redwood Chapel.
One of my favorite features of Clifton's is a mystical redwood tree bearing a blue neon cross. After eating your mashed potatoes you can sit inside this tree on a little bench, look at a model of a miniature redwood forest behind a piece of glass (mind blowing – a forest within a tree within a forest, I love it!), and listen to a pre-recorded monologue about transcendental redwood spirituality:
Margie contemplates the nature of trees and the universe inside Clifton's Redwood Chapel.
The Brown Room on the second level of Clifton's, where the LASFL used to meet, is dark and wood paneled and evocative of a log cabin. Unlike most cabins, however, there are large backlit glass panels showing nature scenes from around California. Most of these images are quite faded out after many decades of service, which makes everything even more surreal. There are also cozy little cabin/rooms on this level that I didn't get pictures of because it was near closing time when I last brought my camera.
The third level of Clifton's is decorated in red velvet Victorian theme. Weird. I always peek at this level, but I've never seen anyone up there:
Level 3 of Clifton's Cafeteria.
On top of everything, the clientele of Clifton's always offers a spectacular ethnographic profile of old school Los Angeles. Mexican cowboys, preachers with electric hats, pimps with chains, guys with bandaged heads, hipsters and losers and loners and families. I could sit there all day, watching people, eating custard pie with the ghost of Leigh Brackett.
The entry tunnel!
This post by Bob Reed originally appeared at Cyclopeatron.