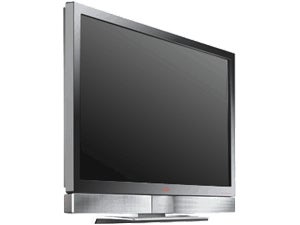 Good news and bad news for all you penny-pinching HD fans out there. First the good news. As far as price/performance goes, Vizio's budget 1080p LCD beats out the competition (we're looking at you, Westinghouse). But if you actually care about the quality of what you're buying, you're better of passing on this one as its grayscale performance sucks the big one.

So here's what you can expect from the GV47LF. Spec-wise, you get a pair of HDMI inputs, two component inputs, and a VGA-style PC input. Looks-wise, the panel has a snazzy design going for it. Not to mention you're getting 47 inches for $1,899. Now here's where things go rotten. Performance. Color accuracy was good, but the LCD's black levels were wack. They just weren't black enough. Grayscale was just as bad, looking more blue than it did gray. Color uniformity could have been better, especially since you could see lighter shades of black along the letterbox bars.
So what does this all mean? You get what you pay for. We suggest if you're gonna go 1080p, go for the best you can afford—that way you'll actually enjoy watching movies on it, rather than spend half the time wondering why everyone on your TV looks like a smurf.
Vizio GV47LF [CNET]