Comic-Con's 2009 panel "Mad Science" gives us a sneak peek at Caprica, a discussion on the symbiotic relationship between scientists and screenwriters, robotic reincarnation — and the inevitability of transporter accidents.
Bad Astronomy's Phil Plait moderated a panel exploring the relationship between science and science fiction. On hand to offer their opinions were Caprica executive producer and writer Jane Espenson, Eureka creator Jamie Paglia, Eureka and Virtuality science consultant Kevin Grazier, as well as Fringe screenwriters Rob Chiappetta and Glenn Whitman, and neuroscientist Ricardo Gil da Costa. The panel was put on by the Science and Entertainment Exchange and Discover magazine.
Jane Espenson talked about Caprica's concept of soul transference and the idea of downloading yourself into another carrier after death. Espenson says:

the question we're all arguing about in the writer's room right now is, "is this the afterlife or is this something else?"
In regards to science fiction in the series becoming science reality, she jokingly tells us,

I think we all need to start worrying about being downloaded and put into a robot."
G/O Media may get a commission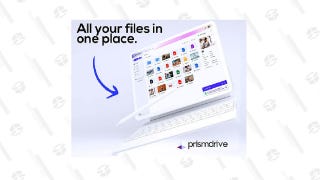 Save 97%
Prism Drive Secure Cloud Storage: Lifetime Subscription
While it may be a while before we can download entire personalities, brain scanning technology has already presented us with a startling amount of information. Scientist and Fringe consultant da Costa cautions us that synaptic mapping is very much a reality, and without ethical parameters. He says

It's such a new technology that there is no real legislation around it.
Could this lead to frightening new "enhanced interrogation" techniques? *shudder*
All panelist agreed that science and science fiction naturally form a symbiotic relationship, where scientists and artists inspire each other to ever greater heights. Grazier admits:

My desk at JPL (Jet Propulsion Laboratory) is filled with action figures. Science fiction is why I became a scientist.
Paglia and Whitman discussed the negative effects that super-powered science could have on a society — or a small town like Eureka. Paglia explains:

I'd love to be able to teleport. I hate to commute. But if you have a reality in which teleportation is possible, other things break down. The flight industry goes out of business, taxi companies, buses...and the portion of the economy collapses.
On the other hand, the carbon footprint is reduced and new transporter technologies would undoubtedly rise in their place. And we'd undeniably encounter the same transportation mishaps. After all, reminds Plait, "transporter accidents are inevitable."