The Verrückt, the world's tallest water slide, has finally started testing with real, live humans. And the first drop in this POV footage is absolutely terrifying.
Located in Kansas City, Schlitterbahn water park has been pushing back the big unveiling of their monster slide (The Verrückt) again and again. But this video with slide's engineers taking the first human ride gives us hope that it may just be safe enough for the public soon.
Here are the facts. The Verrückt is 168 feet and 7 inches tall. The Statue of Liberty (from toes to the tip of the flame) is only 151 feet. It's also taller than Niagara Falls. You have to climb up 264 steps to get to the top of the 17-story slide. It's expected to hit speeds of up to 65 miles-per-hour. And when you ride you must be velcro strapped into a very large raft (which is good because you would have no butt if you did this bare bottomed).
Also, remember a few months back when we reported the rumor that sandbags were being launched off the ride, and then everyone freaked out because the park claimed that wasn't true. Well guess what? It was true. In earlier models of the ride sandbags were launched into the air. And on the actual ride itself, early tests showed the entire freaking raft lift off into the air. Here's a clip from the Travel Channel's feature on the construction of the ride, enjoy the terror:
But it's cool because now the ride has netting around it so you probably won't fall off. Maybe. Still no word on the official release date but the website says "sometime in 2014."
G/O Media may get a commission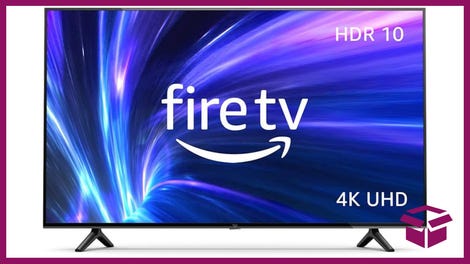 42% Off
Amazon Fire TV 50" 4K Smart TV
And here's the raw POV shot. The camera craps out on the second bump, but the drop is still intense.
Can't wait. This weekend a friend of mine took a shot of The Verrückt from the highway and the thing is just so ridiculously large, even from super far away.