Don't just give your loved ones geeky toys — give them weird geeky toys. Nothing says "nerd-cred" like merchandising that makes people gawp at the sheer WTFery. Here are 22 pieces of shwag to make your friends question your sanity.
Additional reporting by Michael Ann Dobbs and Katharine Trendacosta.
Nami 3D Oppai Mouse Pad
Her breasts are an ergonomic wrist support. Really. [via JList]

G/O Media may get a commission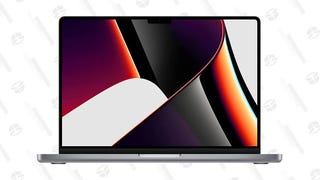 Save $300
2021 14" 1TB MacBook Pro
Boba Fett Underwear for Women
Boba Fett actually gets very upset when you fetishize him for his Mandalorian sexiness. Actually, wait. No he doesn't.
[via Her Universe]

HTTPanties
From ThinkGeek:
Feeling frisky? Well then don the black "200 OK" panties and see where they take you. Alternatively, the white "403 Forbidden" style sends a very different and hopefully clear message. We think "411 Length Required" and "413 Requested Entity Too Large" are pretty self-explanatory.
Spider-Man: Rock Reflections on a Superhero (record)
Can't afford to get your squeeze a ticket to the Spider-Man musical on Broadway? The next best thing is available for only $4 on Amazon, if you can play vinyl. Warning: Though it's a great collector's item, this record will scar you (or your friend) psychologically, especially during all the sections where the villains are screeching "You're a loser!" And the songs are pretty scarring too, including the not-quite-as-good-as-the-cartoon-version Spidey theme song.

Rainbow Brite — Maggie 8 inch doll.
From Madame Alexander:
8 inch doll blue-eyed Maggie doll with bent knees, a blond ponytail with bangs and a dedicated face paint is dressed in her iconic outfit. Her satiny blue dress is accented by rainbow colors and features her rainbow color belt. White undies and socks are worn beneath and stuffed rainbow boots are on her feet. She is finished by the lavender bow with a red star in her hair and a blue star on her cheek. She comes with her favorite white sprite, Twink.
Ankh-Morpokh Guild of Seamstresses T-shirts
Possibly the oddest Terry Pratchett shwag. From Paul Kidby.

Catwoman Plush (with whip)
Finally a toy that will whip all your friend's care bears into shape. [via Neatoshop]

Vampire Fangs Ice Tray
Makes five vampire-fang-shaped ice cubes per tray. And the tray is coffin shaped. Finally something to put in your glasses of True Blood blood substitute drink. [via Neatoshop]

"Live Long and Prosper" garter.
Don't show off your thigh without the Spock hand, it's vulgar. Next time your friend's boyfriend goes into Pon Farr, he'll appreciate this implied advice. [Kizette on Etsy]

Benjamin Franklin Yoda art print
A penny earned, a penny saved is. [BeatUpCreations on Etsy]

Spock Beer Stein
That's actually quite disturbing-looking. It would definitely make you want to be drunk. [Niswander Ceramics on Etsy]

Spider-Man Adventure Toys
Put out by Toy Biz, these toys show Spidey playing sports (including golf! And bowling!) and doing other regular stuff, like skateboarding. Why? Not sure where you get these, but your friends will be freaked out. [via Comics Alliance]

Star Trek: Voyager Tom Paris Mutated Action Figure
These still go on eBay for as little as $1 and they're among the creepiest action figures in history. Commemorating the time when Paris and Janeway went faster than Warp 10, and mutated into reptiles, who had sex and made reptile babies. Seriously. The action figure (what action? Wait, we don't want to know) comes with three "mutant offspring," so your mutant Paris can play house. When we interviewed Robert Duncan McNeil, we had to ask him if he still had this action figure, and he wasn't sure.

Canned Unicorn Meat
Because dragon meat is too expensive. [via Think Geek]

Alien Abduction Lamp
The cow starting to lift off the ground is what makes it great. [Abduction Lamp, via SFWA]

C-3PO Tape Dispenser
Seriously disturbing. And sadly, quite expensive — there's one on eBay for $150, and another one going for $350 at Collectors Corner.
Orion Slave Girl Wrapping Paper
Just $19 a roll, and you can imagine they're dancing or pretending to have written famous poems. [Merry Pranxter on Etsy]

Purr Trek: Deep Space Feline greeting card
Uh... what? [AfricanGrey on Etsy]

Vulcan Breast Meld Case Wallet
This photochop has been around for as long as the Web, pretty much, but now it's a case that you can keep your wallet, iPod, business cards or whatnot in. In case you need to make a classy impression on your business contacts.
Star Wars: Return of the Jedi Apron
I just don't think it's frilly enough, and there should really be a Jabba the Hut wearing a chef hat on it. These are made from vintage ROTJ sheets, and the placement of images may differ — so you can only hope you get one with crotch Ewoks. [Cinders at Home on Etsy]

Space Battleship Yamato Underpants
These came out last year, in connection with the animated Yamato film, so I'm not sure where you'd get them now. There are ones with the slogan on them, and then the woman in the picture to the right is holding the other version, which contains a picture of the Yamato on it. Insert your own joke about wanting to have a wave motion gun in your pants. [via Anime News Network]

We love anime, and have many cute, sweet, lovely anime inspired items. But if you want to creep or weird your friends out the Japanese can't be beat. Introducing "cast offs," small sculptures of anime girls, often dressed in maid costumes, whose clothes can be cast off. That's right, naked anime dolls. Here's Airi from the erotic fantasy series, Queen's Blade.
From JList:
A beautiful Airi character cast-off figure from the Queen's Blade series. Here she is lifting up her maid outfit to reveal her white bikini underneath while in the kneeling position. Made of polyresin material, this is a 1/2.5 scale figure and measures 32 cm (12.5 inches) in height and is ready to display right out of the box. As an additional bonus, her bikini is castoff so you are able to view her more delicate features as you wish. Made by the folks at A+ (A Plus)