WD's new NAS drives, the My Book World Edition II, packs either 2 or 4TB of storage in a dual-drive RAID array. It seems like a pretty solid system for those dangerously paranoid about the safety of their data.
The My Books can connect either as an NAS through ethernet or simply as an external drive through USB, and both the 2TB and 4TB versions contain two drives to watch each other's backs in case one fails. So really, you're getting either 1TB or 2TB of space, respectively, since one drive is used as backup. They're available now and retail for either $400 (2TB) or $700 (4TB). Press release to follow. [Western Digital]
WD'S NEW DUAL-DRIVE MY BOOK® WORLD EDITION™ II NETWORK STORAGE SYSTEM ADDS EXTRA LEVEL OF PROTECTION
FOR A FAMILY'S VALUABLE DATA

Offers an Easy, Double-Safe Way to Backup Computers and Share Media
Throughout the Home

LAKE FOREST, Calif. - June 24, 2009 - WD® (NYSE: WDC), the world's leader in external storage solutions, today introduced its newly redesigned My Book® World Edition™ II dual- drive network storage system in capacities of up to 4 TB. With the double protection of two Mirrored (RAID 1) drives and continuous backup software, the My Book World Edition II network storage system provides an extra-safe place for users to back up and store the data and digital media from all the computers on their network in one central location. Available now at select retailers and the WD online store, the new dual-drive systems join the recently introduced (Feb. 2009) My Book World Edition and are compatible with PC and Mac® computers.

According to a July 2008 report by research firm Parks Associates, the number of households worldwide with data networks will grow from around 170 million in 2008 to 240 million by year-end 2012. The firm also reports that the average broadband household will see its digital media storage needs grow to nearly 900 GB by year-end 2012. In addition, consumers indicate that the most important feature for a network-attached storage (NAS) device is the amount of available storage. With its massive 4 TB capacity, the My Book World Edition II network storage system will serve this rapidly growing need for home data storage.

The My Book World Edition II network storage system uses RAID 1 (Mirrored1) technology to automatically and continuously maintain a second copy of user's data. If one drive in the two-drive system ever fails, the system continues to run and the data is safe. In addition, the new
My Book World Edition II network hard drive includes software that simplifies the task of setting up automatic and continuous data backup for all the PCs in the home. The My Book World Edition II storage systems ship in Mirrored mode and use half the capacity for file redundancy.

With its media server capabilities and fast transfer speeds, this high-capacity system makes it simple to build a centralized digital media library that everyone can easily share. Music, photos and videos can be streamed directly from the My Book World Edition II storage system to any PC, Mac or connected DLNA® media player (such as TVs, Microsoft® Xbox 360 and Sony® PlayStation®3 game consoles or wireless digital pictures frames) using the integrated UPnP (Universal Plug and Play) media server and iTunes® Music server software. Users can also securely access their files from anywhere in the world through the Internet using the free MioNet® remote access service included with every My Book World Edition II storage system.

"Families have more and more digital media like movies, photos and music to store, share and protect. Having two drives inside the My Book World Edition II network storage system, instantaneously and automatically duplicating data, offers consumers the peace of mind of double safe, real-time protection of their valuable content," said Dale Pistilli, vice president of marketing for WD's branded products group. "Families can relax knowing their valuable media is backed up while enjoying the ability to stream their content to a plethora of different devices from PCs and Macs to PS3s, Xbox 360s and the latest connected TVs."

Price and Availability

The new My Book World Edition II network storage systems are available now in 2 TB and 4 TB capacities at select retailers and WD's online store (www.shopwd.com). MSRP for the My Book World Edition II dual-drive storage system with 4 TB is $699.99 USD and 2 TB is $399.99 USD.
G/O Media may get a commission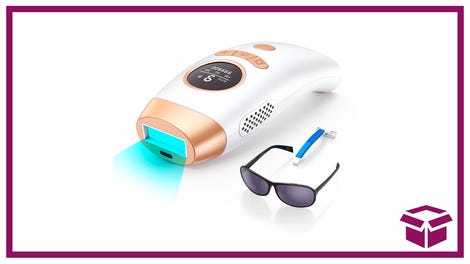 58% Off + Coupon
IPL Hair Removal Device