The US Patent & Trademark Office just published Apple's latest trademark application for "Magic Trackpad"—and, looking at a bit of history, we think it could be one of two new products.
Possibility #1
Back in July 2009, Apple was granted a patent on their multi-touch Trackpad. However, many elements of the patent were left out, including advanced infrared imaging and optical emitters which could, in essence, make your Trackpad know when you were trying to type or trying to gesture (while opening the door for all sorts of other gesture tracking possibilities across much of your laptop's work surface).


So the Magic Trackpad could be the next Trackpad for MacBooks.
Possibility #2
But the other, more enticing rumor, was one sourced from John Gruber back in October—that Apple could be introducing a "Wildcard I'm-Not-Sure-I-Really-Believe-It-Myself Out-There Rumor...Some Sort of Mentioned-Nowhere-Else-But-in-This-Very-Headline Multi-Touch Trackpad Gadget for Desktop Macs."
G/O Media may get a commission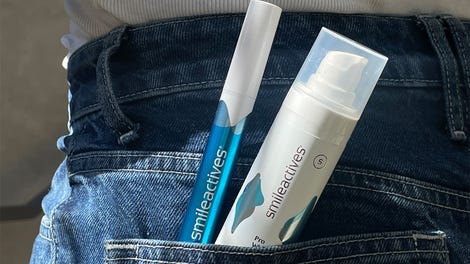 58% off
Whitening Powerhouse Pen & Gel Duo
Not so long ago, another Apple trademark was uncovered called the "Magic Slate"—many believe it to be the Gruber-described device. After HP and Dell both started coining the term "slate" around CES, I wonder if "slate" fell out of vogue, meaning the "Magic Slate" became the "Magic Trackpad."
Taking a look at the actual Trackpad trademark filing, we must admit, the longshot standalone desktop trackpad feels like a decent fit:
International Class 009: Computers; computer software; computer operating system software; computer utility software; computer hardware; computer peripherals; scanners; touchscreens; keyboards; computer mice; trackballs; trackpads; touchpads; light pens; joysticks; game controllers; graphics tablets; digitizers; cables and connectors; flash memory drives; USB drives; solid state storage devices; barcode readers.
One thing's for certain, if a device could actually cover every one of those categories in full, it most certainly would be something magical. [Patently Apple via Macrumors]