A teaser for something called Zii was sent out by Creative, a company known for soundcards, mentioning the ambitious sounding and pretend terminology "stemcell computing". Updated 3:47pm: iTunes Competitor?
The website referenced at zii.com has this info:
• The words "Zii". (Can assume that Nintendo's Lawyers are powering up.)
• The words "Everything you know is about to change".
• The text Stemcell (as one word, not two).
• Four leaf clovers that sparkle.
• The font for "Z" on Zii is some weird and terrible design that is also probably used for the Z on the neon sign of every shitty club called Zanzibar from Boston to Hawaii.
Entering this data into the generally infallible Gizmotronic super computer (A cluster of Dreamcasts and US Robotics 56k modems, connected over RJ-45) I've calculated to 99.5% probability that Creative Labs is getting into gadget cloning as a way to remain competitive in the mp3 player market, a market they were relevant in in 2001. They're going to use this tech to master the design methodology of 10th party Chinese knock off firms and save on research and development costs. And they will first clone another iPod and late in 2009 they'll get ambitious and clone the iPod Touch named Dolly the ipoddy. I have bet the Engadget guys 100 bucks and 10 links this is true.
But, considering our 0.5% chance of Gizmodotronic making a mistake, what do you think it is?
Update: Commenters Adam Lang and MichelleDatsun have earned their stars by taking the entire 1 minute to search the USPTO for Zii, coming up with an entry dated on September 18th of 2008, listing the probably purposefully broad description below. What is interesting is the section referring to "Providing on-line facilities, via a global computer network, to enable users to program the scheduling of audio, video, text and other multimedia content, including music, concerts, videos, radio, television, news, sports, games, cultural events, and entertainment-related programs". That all sounds a lot like some sort of social network or content distribution system, which the top players of significance, the Zune and iPod, have with their desktop apps. Interesting and it makes sense for Creative to make something like this (or give up) but there's no way to fit the "stemcell computing" aspect of the teaser into the analysis.
G/O Media may get a commission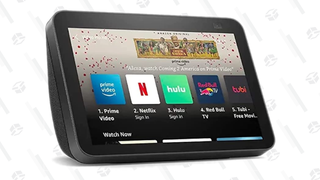 We'll find out soon enough.
[Zii.com via Paul at Engadget]
Word Mark ZII
Goods and Services IC 009. US 021 023 026 036 038. G & S: Computer software; computer hardware; computer memories; computer interfaces; HDMI interface, ports and cables for digital electronic multi-media devices; computers; central processing units; subwoofer speakers; audio players; audio signal processors; microprocessors; digital audio players; digital cameras; magnetic disks; external hard disk/storage devices; portable speakers; computer keyboards; computer mice; monitors; computer cables; headphones; earphones; digital video players; apparatus and instruments for recording, reproducing and/or transmitting sound and/or visual information or recordings; Instrument and materials for transmitting and/or receiving and/or recording sound and/or visual images; interactive sound and/or visual recordings; sound and/or visual recording media; video games; interactive computer software; electronic publications and digital music (downloadable) provided on-line from databases or from the Internet or from any other communications network; digital versatile discs and digital video discs (DVD) including high definition DVD; CD-ROMs; Optical and magneto-optical disc players and recorders for audio, video and computer data; optical and magneto-optical discs featuring music, text data, still images and motion pictures; televisions; Blu-ray discs (being a storage and/or recording media); virtual reality systems; digital music (downloadable); amplifiers; telephones; mobile telephones; cellular telephones; video phones; batteries, battery charges; charger adapters; parts and fittings for phones, including clips, covers and shells specifically adapted for phone; headphones receivers, microphones, hands free kits for phones for vehicles; electric cables, antennas, phone holders, desktop stands for mobile telephones, GPS receivers; 3G network receivers; 4G network receivers. tripods and flashlights for cameras, keyboards, Stylus (light pens), memory cards, loudspeakers, radio transmitters, audio adapters, carrying cases adapted for mobile telephones; carrying cases adapted for digital music players, and portable handheld digital electronic multi-media devices; cameras; digital maps and digital map displays; digital music players and radios; computer software for use in transmitting and receiving data, images and voice communications; computer software for transferring data, images, messages and video between mobile communication devices, portable handheld digital electronic multi-media devices, digital audio and video players and/or computers; computer software for gathering, storing, organizing and viewing information, data, images, messages and video on mobile communication apparatus, portable handheld digital electronic multi-media devices, digital audio and video players and/or computers; computer software enabling users of mobile phones and/or digital electronic multi-media devices to share information with other users of mobile phones and/or digital electronic multi-media devices; computer software and programs enabling users of communication devices to simultaneously access online services from network-wide databases and global computer networks; apparatus and instruments for telecommunication via internet; cordless telephones; computer telephony software; telecommunications equipment composed primarily of telephones and videophones, voice mail hardware and software, caller ID hardware and software, voice over IP hardware and software, telephone display screens, video screens, video screens for use within a video phone, and video cameras for use in a video phone; telephone-based information retrieval software and hardware; nano computers; laptop computers; electronic organizers, electronic notepads, digital satellite broadcasting systems, namely receivers, transmitters and antennas for satellite broadcasting. USB hubs and adapters; apparatus sets for remotely monitoring the security of places; apparatus and instruments for conducting, switching, transforming, accumulating, regulating or controlling electricity; remote controls; and electronic manuals (downloadable) distributed therewith

IC 035. US 100 101 102. G & S: Advertising, business, marketing, promotional and publicity services; arranging and conducting exhibitions for advertising, commercial or trade purposes; arranging and conducting trade shows for advertising purposes; provision of advertising, marketing and promotional services on-line from computer databases or the Internet (including web sites); arranging for the provision of advertising space; advertising on radio and television; provision of space on web sites for advertising goods and services; classified advertisement; publication of advertising literature, matter and texts; preparation and publication of publicity texts; provision of business news (business management); arrangement of advertising; compilation of advertisements for use as web pages on the Internet; compilation, production and dissemination of advertising matter; rental of advertising space; arranging newspaper subscription; business information; business research; business services relating to the provision of sponsorship for television and radio commercials; production of commercials; business management of performing artists; opinion polling; economic forecasting; statistical information, namely, searching, browsing and retrieving information, sites, and other resources available on global computer networks and other communication networks for others; advertising and commercials in the electronic media; reproduction of advertising material in both print and electronic media; recruitment advertising; advertising and media campaign planning services; providing information on employment and careers (other than educational and training advice); advisory, information and consultancy services relating to all the aforesaid; all the aforesaid services also provided on-line from a computer database or via the global communications network

IC 038. US 100 101 104. G & S: Broadcasting and telecommunication services; broadcasting and communications by means of or aided by computer; broadcasting and communications by telephone, line and cable; mobile communication services; music and radio broadcasting; transmission of radio programs; wireless communication services; transmission of digital information; communication services for receiving and exchange of information, messages, images and data in electronic form; electronic mail services; news agency services (transmission of news); electronic data display board services for information, messages, images and data; electronic bulletin board services (telecommunications services); provision and operation of electronic conferencing, discussion groups and chat rooms; provision of on-line forums; operating chat rooms; providing access to blogs, providing on-line chat rooms or discussions services; providing access to a blog, chat room, bulletin board or discussion services; providing access to an Internet discussion website; providing internet uses with space for personalized information such as blogs and journals concerning entertainment, music, concerts, video, radio, television, film, news, sports, games and cultural events; providing access to digital music websites on the internet; providing access to MP3 websites on the internet; delivery of digital music by telecommunications; operating search engines; transmission of news and current affairs information; advisory, information and consultancy services relating to all the aforesaid; all the aforesaid services also provided on-line from a computer database or via the global communications network

IC 041. US 100 101 107. G & S: Audio and visual entertainment services; publication of sheet music; organization of competition for entertainment or education; organization and presentation of live performances; music composition services, music arrangement services, music production services; organization and production of shows; recording studio services; production of music, audio and video recordings; distribution (other than transportation) of music, audio and video recordings; promotions (entertainment); music publishing services, publishing of musical works, song publishing; operation of music schools; teaching of music; teaching of singing
IC 042. US 100 101. G & S: Providing on-line facilities, via a global computer network, to enable users to program the scheduling of audio, video, text and other multimedia content, including music, concerts, videos, radio, television, news, sports, games, cultural events, and entertainment-related programs; design, drawing and commissioned writing, all for the creation and compilation of web sites and web pages; creating and maintaining web sites and portals on the internet; hosting computer sites (websites); providing users with access time to electronic communications networks with means of identifying, locating, grouping, distributing, and managing data and links to third-party computer servers, computer processors and computer users; providing users with access time to electronic communications networks with means of identifying, locating, grouping, distributing, and managing data and links to third-party computer servers, computer processors and computer users; provision of access time to web-sites featuring multimedia materials; providing access to databases and directories via communications networks for obtaining data in the fields of music, video, film, books, television, games and sports; photographic research; advisory, information and consultancy services relating to all the aforesaid; all the aforesaid services also provided on-line from a computer database or via the global communications network
Mark Drawing Code (5) WORDS, LETTERS, AND/OR NUMBERS IN STYLIZED FORM
Serial Number 77574281
Filing Date September 19, 2008
Current Filing Basis 1B
Original Filing Basis 1B
Owner (APPLICANT) Creative Technology Ltd CORPORATION SINGAPORE Creative Resource 31 International Business Park Singapore SINGAPORE 609921
Attorney of Record Jorge Arciniega
Description of Mark Color is not claimed as a feature of the mark. The mark consists of the capital letter "Z" in a stylized script, followed by two lower case letters "i", with the stem of the second "i" inverted from the stem of the first "i".
Type of Mark TRADEMARK. SERVICE MARK
Register PRINCIPAL
Live/Dead Indicator LIVE