Architizer is a blog dedicated to the past, present and future of architectural design. They scour the internet finding the best/coolest/weirdest structures people crawl around in. Today they look at floorplans which have been fashioned in the likeness of classic guns.
"One can kill a man as easily with a dwelling as with an axe!" Artist Baptiste DeBombourg takes literal this famous damnation of Heinrich Zille, only updating the killing device from a singular ax to an arsenal of automated guns. Entitled 'Tradition of Excellence', Debombourg's hand-rendered drawings treat each of the guns as a solid mass, from which are carved a series of architectural rooms and spaces.
A series of dormitories are aligned along the interior shaft of a Famas-F1, while a narrow corridor follows the curve of its hand guard that lead to a large room of unspecified program. Tiered seating fill up the auditorium that resides in the magazine of a Kalachnikov AK-47, a grand staircase hugs the walls of a Colt M1911, baths run down the central arm of an Uzi. The greatest spatial complexity can be found within the M134D Minigun, whose bilateral symmetry is realized in plan as a Baroque collage of mirrored rooms, sculptural staircases, and angled walls.
The drawings recall the plan drawings of medieval British castles–famously collected and studied by Louis Kahn–in which small spaces are excavated out of the thick fortress walls. Yet the "walls" of Debombourg's gun typologies are much more thin, even nimble, with electic, non-platonic profiles that prove naturally conducive to the new spaces and programs.
G/O Media may get a commission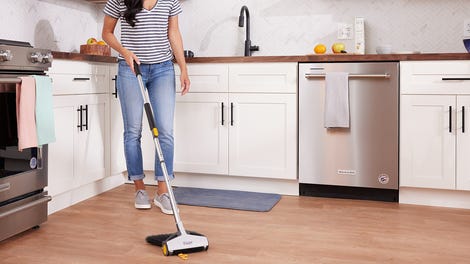 BOGO 50% Off
Flippr - BOGO 50% Off
All images, courtesy of the artist
Republished with permission from Architizer.