The Exorcist begins shooting its second season next week, so show brought no new trailer or even images to Comic-Con this year. But thanks to the cast and crew, we still got some insights into what to expect from the surprisingly excellent horror series come September 29, as the spooky show shifts locations and adds several new characters.
"We start full-on in the middle of the action. It's six months further down the line," star Ben Daniels (who plays the newly excommunicated Father Marcus) explained. "Marcus has been training Tomas [played by Alfonso Herrera] to be an exorcist, and they've been out on the road. They've left Chicago, they've arrived in Montana, and they're in the middle of an exorcism. Tomas has become as powerful as Marcus, and we're starting to see a split between them."
The budding partnership between Marcus and Tomas was a cornerstone of season one, so a rift between the two would mean trouble for both. "Tomas has said good-bye to his life in Chicago, his comfort zone, which is his family, his congregation, his career as a priest, and he suddenly realizes that he has a bigger purpose," Herrera said. "He follows Marcus, and in the process of becoming an exorcist, Tomas starts to take some risks that are unnecessary [from] Marcus' perspective. That is going to generate some kind of peculiar friction, so that's going to be very interesting in the whole second season."
Meanwhile, inside man Father Bennett (Kurt Egyiawan) has returned to the Vatican, investigating the sinister conspiracy that was uncovered in season one. "He's trying to work out if this institution that he believes in, and that he's called home, is rotten to the core—and what he's going to do about that," Egyiawan explained. Bennett was a bit of an enigma in season one, but we'll be learning more about his backstory in early episodes, including getting to meet his mentor once he's back in Rome.
G/O Media may get a commission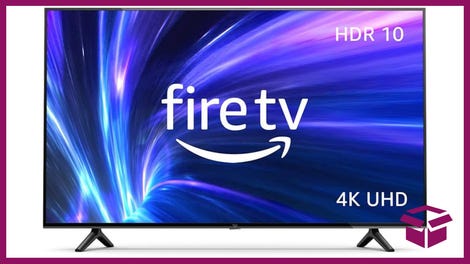 42% Off
Amazon Fire TV 50" 4K Smart TV
The Exorcist's first season contained the huge reveal that Angela Rance, the character played by Geena Davis, was actually the grown-up Regan MacNeil—still battling the demon that plagued her as a preteen in Georgetown. With the show's focus shifting away from the Rance family, so are its ties to the original Exorcist book and movie, which doesn't concern Daniels too much. "I think people have seen how the first season connected [back to the source material], and they wanted that and needed that for us to be able to move on, and for it to become its own beast, which hopefully it will this season."
In addition to a just-added new character named Mouse played by Zuleikha Robinson, who will factor into the Vatican storyline, The Exorcist cast is expanding to include John Cho (Star Trek) and Brianna Hildebrand (Deadpool). Cho plays a former child psychologist dealing with the recent death of his wife, while Hildebrand plays a foster kid that's about to age out of the group home run by Cho's character on an isolated island off the coast of Seattle.
"I'm excited to play this family thing—I haven't done it before onscreen, but I'm a dad in real life, so I felt compelled to visit it," Cho said. "I'm interested in playing in a genre that I've not been in before. And further, I just hadn't seen Asians in horror, and that was a compelling component." Interestingly, though he's seen a few episodes of the show, Cho has yet to watch The Exorcist movie, though he said he plans to soon. (Hildebrand, meanwhile, is a diehard horror fan.)
The actors may have only seen the script for the first episode, but Exorcist creator Jeremy Slater and new showrunner Sean Crouch obviously have a much better idea of what's to come. According to Slater, "The show is really going to give fans what they loved in season one, but even more: more drama, more heart, more scares, different types of scares. We're trying to really elevate the show and take it in new directions."
The show will continue to explore issues of faith, and while there will obviously be a possession component to the story, it will be kept mysterious throughout the first half of the season. More immediately obvious will be the changes that come with the new setting in the rural Pacific Northwest. Part of that has to do with the production's move to Vancouver for budget reasons, but Slater and Crouch are excited by the possibilities.
"We wanted to go into nature and be able to open our horror sandbox to do more J-horror, like Ringu and Dark Water," Crouch said.
"Yeah—to get to play with toys that we didn't necessarily have [in season one]. We have a bunch of cute kids stuck in a house in the middle of nowhere, surrounded by creepy woods and the fog rolling in," Slater added, telling fans to expect lots of "weird shit happening in the woods.")
"Let's take advantage of that. Let's lean into what makes Vancouver atmospheric and cool, and let's try to introduce new scares. I would love some Poltergeist-style scares in this. Some Cabin in the Woods-style scares. Let's do some things that we never got to do in year one."
The Exorcist returns to Fox on September 29.