So you want an iPhone 4S on launch day, but you drug your feet on pre-orders and now you've got to wait in line. Where's the best bet for finding an actual iPhone instead the promise of another shipment in a week or two?
First of all, you should go in with a plan. Call around to every retail store before deciding where you're going to sink time in. If you've waited too last minute for even that, though, here's a rundown on which stores are going to give you the best chance to come away with a magical little rectangle:
---
Apple Retail Store
If you live near an Apple Store, that's probably your best bet for taking home an iPhone tomorrow. They always have the most phones available on launch day—and why wouldn't they?—because Apple wants to keep your butt coming to their stores. Thing is, everyone else knows that too, and lining up outside the Apple Store for an iPhone has its own weird, cult-like appeal, so expect to fight the unwashed masses here.
Also, Apple's recycle program will take a decent dent out of the cost of your phone, if you don't want to deal with reselling your old phone yourself. A very good condition iPhone 4 will get you $200, which is pretty good.
Return Policy: 30 days
---
Your Carrier's Retail Store
The carriers are all sold out for pre-orders, but their retail stores will have some units up for grabs tomorrow morning. We called NY and LA brick and mortars for AT&T, Verizon, and Sprint, and they all told us that we had a good chance at getting a phone if we showed up around 8, but previous years' experience leaves us skeptical.
G/O Media may get a commission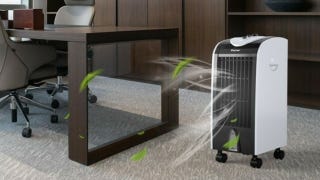 Save $10
Evaporative Portable Air Conditioner Cooler with Filter Knob
Return Policies: Verizon 14 days; Sprint 14 days; AT&T 30 days
---
RadioShack
The RadioShack stores we talked to on both coasts are mostly sold out if you didn't pre-order, and some stores are even telling customers that they only ever intended to have units for pre-orders in stores. That's not entirely true, and RadioShack corporate tells us that more than 3,000 stores nationwide still have phones available, but if your store's telling you that, you're probably out of luck anyway.
Return policy: 30 days
Update: RadioShack's also got its Trade and Save program for the iPhone, which keeps pace with a $200 max for an iPhone 4, and bottoms out at $100 for an "acceptable" 3GS or 4. And for this weekend, they're guaranteeing the $200 for an iPhone 4 and at least $125 for a 32GB 3GS.
---
Best Buy
Best Buy's traditionally been a decent alternative to the Apple Store, and they've only been taking in-store pre-orders; not online. So there's a chance you could luck out.
Return policy: 30 days
---
Target
Target seems to be doing better than some of the other stores on in-store, non-pre-sale stock, but that's going to vary from store to store, obviously. They offer up to $200 for a (very good condition) iPhone 4 trade in, and $120 for an iPhone 3GS, which is on par with Apple's recycle program.
Return Policy: 30 days
---
Sam's Club
You might have forgotten about this one! Sam's has been offering the iPhone 4S for pre-sale since the 11th, and they'll also be selling units in-store on the 14th as long as their supplies last. If you're not a member, you probably don't sniff around Sam's Club too often, but if you are a member, it might give you enough of a buffer to slip in and nab one.
Return Policy: 30 days
---

At every location, you'll need your SSN, a valid ID, your Apple ID and password, your carrier account password, and your old phone, if you're upgrading.
---
You can keep up with Kyle Wagner, the author of this post, on Twitter and sort of Google+.